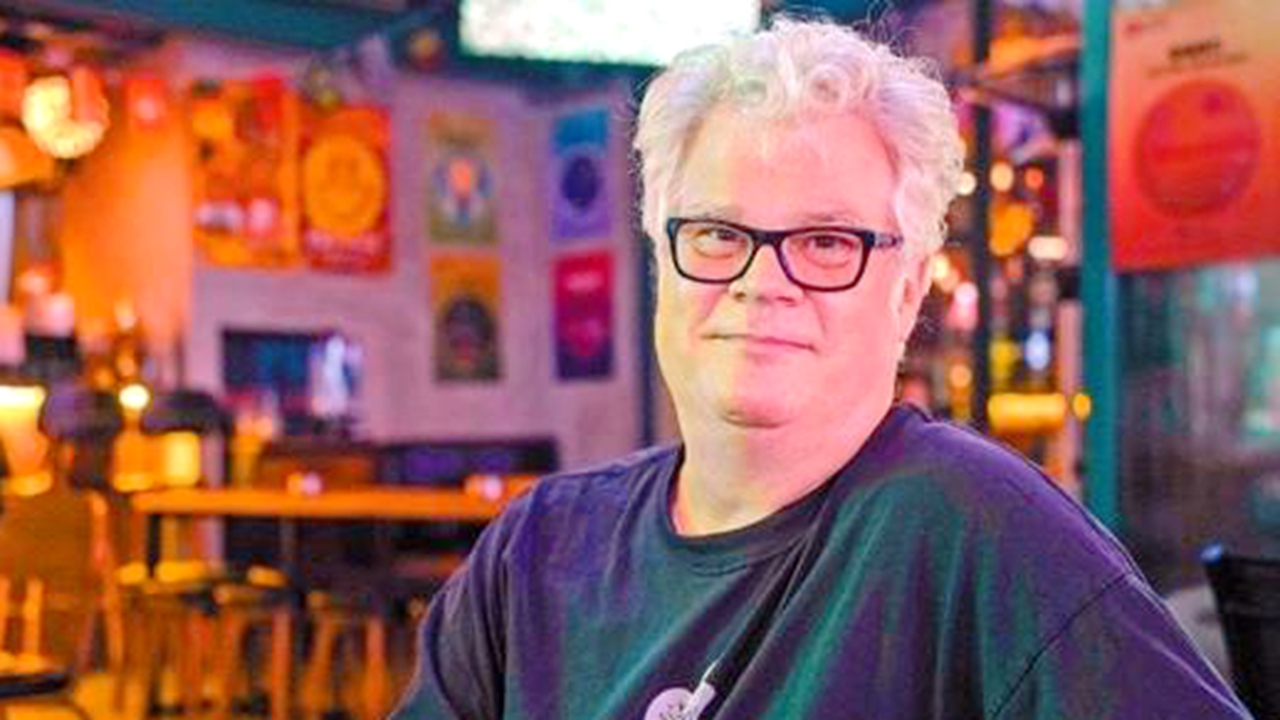 Timothy Percevecz
Living and working in Shenzhen — the City of Technology, traditional artist Timothy Percevecz from the U.S. is passionately embracing the powers of new technology like artificial intelligence (AI) to inspire creativity among students and enhance learning to capture the hearts and minds of the digital generation.
Percevecz is currently teaching at the Shenzhen Foreign Language GBA Academy in Longgang District as a Visual Arts and EdTech coordinator. In his digital classes, Percevecz teaches students about different file types to help students become more productive when using a computer.
As a digitally inclined art educator who is currently obsessed with AI technology and text-to-image generators, Percevecz is also bringing his students the fun of AI-generated art which has been recently taking social media by storm.
Despite some concerns about the ethics of AI art generators, Percevecz believes that this new method of creation has provided a more level playing field in which every student could have some fun. "It's a way that they [students] can express and play visually. The minimum requirement [for AI drawings] is low. If the paintings don't turn out great, they can typically laugh at it, because many students in art classes tend to be nervous since they often feel like they're on display with their drawings or paintings in front of everyone to some degree," Percevecz said. He cautioned that in a highly dynamic tech world, teachers should help steer it and ensure that the students are digitally well connected to make learning better.
Percevecz is also using AI to explore more possibilities in his own creations. He has been inspired by Chinese culture and AI technology to recreate the 12 Chinese zodiac signs which are colorful, vivid and vibrant. Explaining the stories behind his zodiac collection, Percevecz told Shenzhen Daily that he was drawing animals in general and thought it was a natural fit to create a Chinese zodiac collection since he's been in China. "You get the zodiac every year in China. It's a big deal that you're moving from one animal to the other."

A collection of the 12 animals of the Chinese zodiacs created by Percevecz. Courtesy of the interviewee
Percevecz is making his animals more three dimensional and tactile looking, inputting the word "quilling" as a text-to-image prompt for AI generators. He is also trying to mount an exhibition for the collection to let people know more about Chinese culture.
Percevecz graduated in 1989 with a bachelor's degree in sculpture from the Maryland Institute College of Art (MICA) in Baltimore, Maryland. Later on, he became proficient with image and video editing applications such as Photoshop and Final Cut Pro, which helped him land a job at a local Apple Store to teach customers the basics of using Apple products and attain their creative goals with it. He said his experience at Apple served as a catalyst for him to understand the digital world better and ultimately share this knowledge to others.
Last year, Percevecz moved to Shenzhen from Changchun, capital of Jilin Province. He sees Shenzhen as a green, vibrant and livable city, and he particularly enjoys going for a walk every morning around a reservoir in Longhua District near his apartment as well as taking photos and videos of nature as sources of inspirations for his artistic creations.