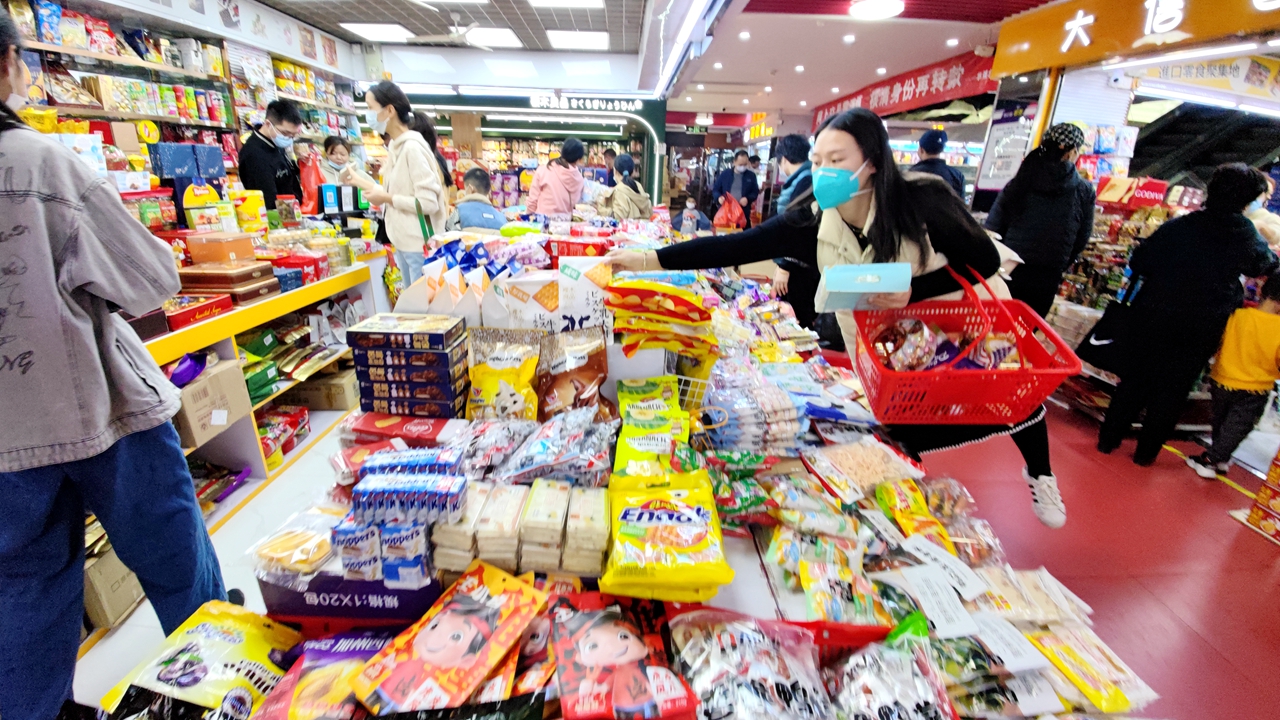 Shoppers grab Spring Festival-themed items at a store in Futian District. Online purchases of "nianhuo," or Spring Festival-themed goods, are also soaring. Sun Yuchen

With the Chinese New Year (CNY) just around the corner, the 2023 Shenzhen Online Nianhuo Shopping Festival is in full swing, triggering a citywide shopping boom ahead of the Lunar New Year.
Purchasing "nianhuo," or New Year's goods, is a traditional Chinese custom. To pepare for CNY, Chinese people usually shop for goods that are necessary for the festival, including different kinds of food, clothes, home appliances and ornaments.
According to partial statistics from the Shenzhen Municipal Commerce Bureau, during the first stage of the online shopping festival from Dec. 30, 2022 to Jan. 11, 2023, the total sales of participating businesses exceeded 3.2 billion yuan (US$472 million), with an average increase of over 20% year on year.
The online shopping festival, focusing on CNY and e-commerce consumption, has organized over 30 key businesses, brands and e-commerce platforms, including Rainbow, China Resources Vanguard, Eleme, Hema Fresh, JD.com, 7FRESH, Meituan, BESTVA, Walmart, Carrefour, Pupu Mall, Suning.com, FIYTA and Comix Group, to participate.
According to the bureau, the participating businesses have received a significant increase in orders since the festival's launch Dec. 30 last year. The top-selling commodities include food, clothes, snacks, fresh fruits, household necessities and home appliances.
Statistics showed that the sales of cherries on Chinese fresh food e-commerce platform Pupu Mall was close to 10 million yuan. The sales of FIYTA's Clover Collection ladies' watch with red leather straps increased by 28% year on year.
During the Spring Festival holiday, the city's districts and new area are expected to issue more than 600 million yuan worth of consumption vouchers, which cover many fields such as automobile, retail, catering, jewelry, accommodation, culture and tourism.
The 2023 Shenzhen Online Nianhuo Shopping Festival will run until Jan. 28.