A scene from "Shui Yue Luo Shen." Photos courtesy of the organizer unless otherwise stated
Works of art can often inspire other artists to come up with masterpieces in other forms and genres. Take the example of Tang Dynasty (618-907) painter Gu Kaizhi's 6-meter-long hand scroll "Nymph of the Luohe River."

Inspired by "Ode to the Luohe Goddess" of Wei prince Cao Zhi (192-232), the painting depicts the bittersweet love story between Cao and the nymph.
This evening and tomorrow, local audience members are in for a treat, as an award-winning dance drama of the same theme is coming to Shenzhen Poly Theater.
"Shui Yue Luo Shen," presented by the Zhengzhou Song and Dance Theater (ZSDT), brings Cao's love story to life on the stage in the form of classical Chinese dance and music.
It is believed that the prototype of the heroine is Zhen Fu, the first wife of Cao Zhi's elder brother Cao Pi (187-226) who was the first emperor of the State of Wei. Many popular accounts alleged that Cao Zhi and his brother's consort Zhen fell in love when they were young. Unfortunately, Zhen was betrothed to Cao Pi. She was forced by her husband to take her own life in 221. Cao Zhi composed the poem a year after her death.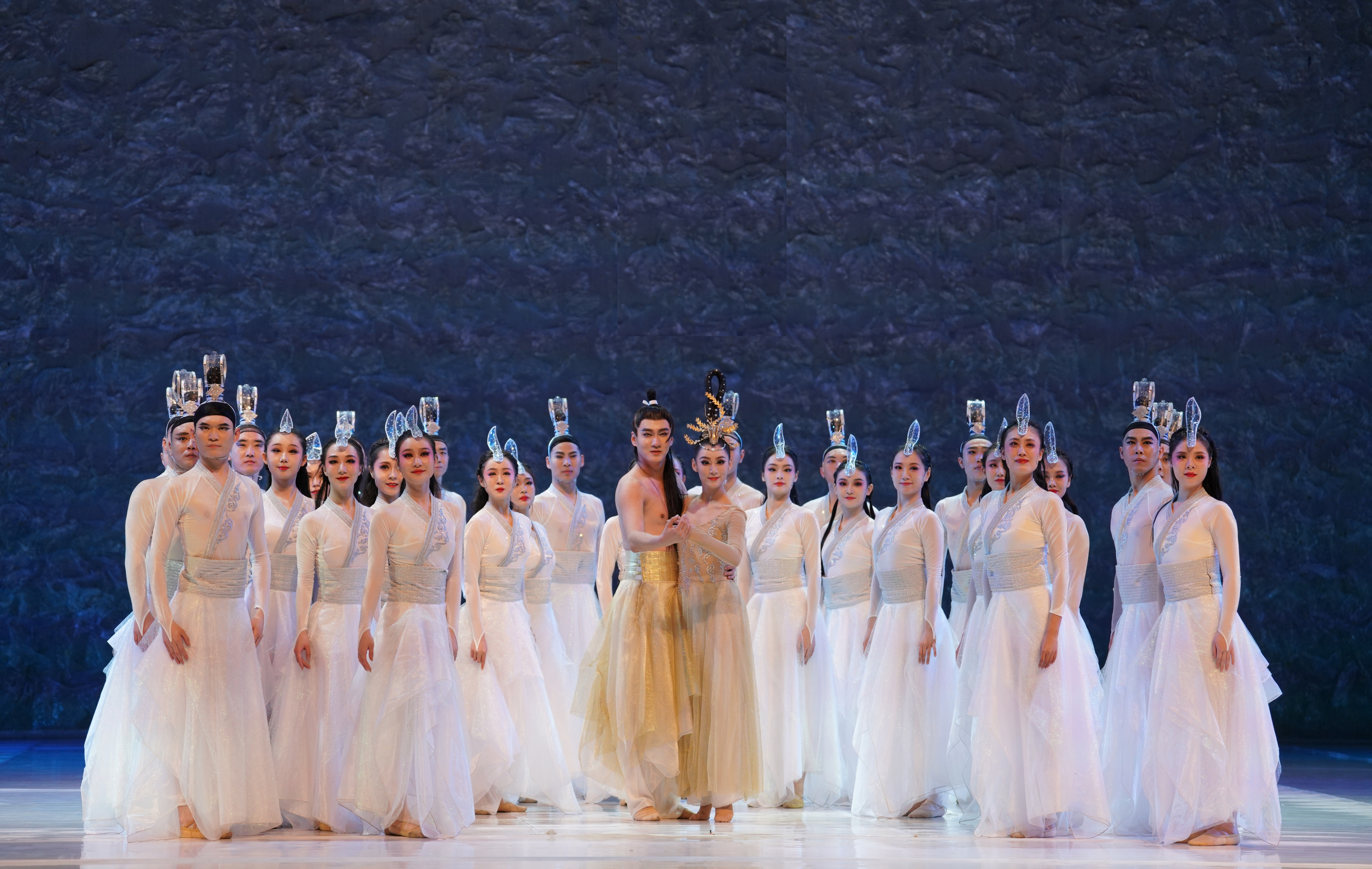 A scene from "Shui Yue Luo Shen."
Penned by veteran scriptwriter Feng Shuangbai and directed by Tong Ruirui of the China National Opera and Dance Drama Theater, the show pools the efforts from top talents in China, including composer Guo Sida (score for 2016 movie "The Wasted Times"), choreographers Liu Lili and He Tao, lighting designer Xing Xin, stage designer Liu Kedong and multimedia designer Hu Tianji.
The show, first produced in 2010, won prestigious national awards such as the Wenhua Award and the Lotus Award.
"The show was performed about 100 times in 2010, and won rave reviews from critics and audience alike," said Wang Peng, executive director of the show, during a press briefing Sunday.
The two-month national tour, which had stops in Chongqing, Guiyang and Kunming, will also travel to 11 other cities including Guangzhou, Wuhan and Shanghai, presenting 26 shows.
"The dancers are certainly different from the original production," Wang said, adding that the costumes were newly tailored. "Apart from that, we keep the show as the original, which has been praised as the 'ceiling' of Chinese dance shows."
A strikingly beautiful scene depicts Zhen dancing in the moonlight before she is to hang herself at the order of her husband, hoping that her sacrifice would be the tradeoff for Cao Zhi's freedom.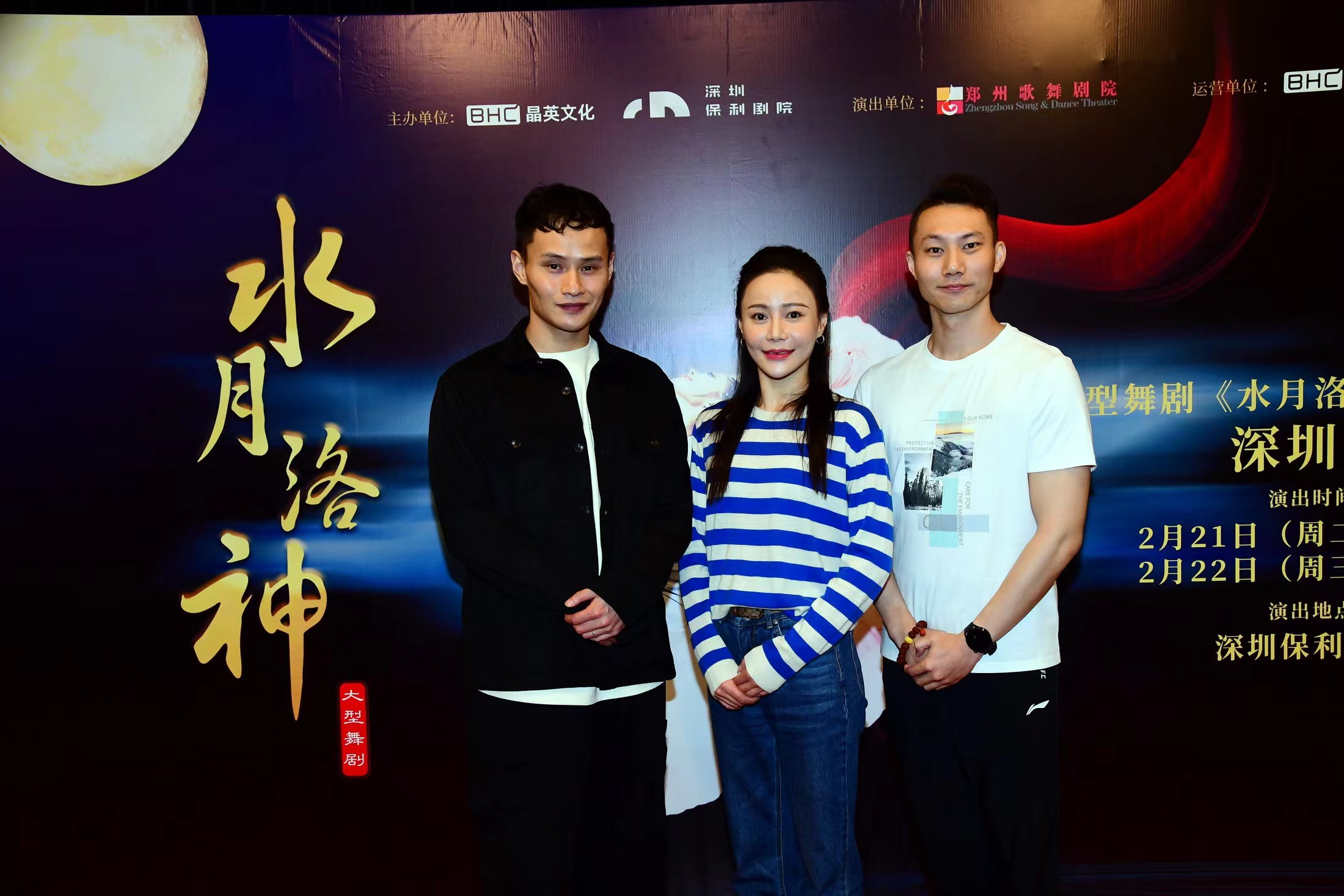 (From L) Zeng Pengfei, Yi Xingyan and Gai Zheng. Han Mo
"There are scenes of reality and scenes of fantasy, which the audience members have to figure out themselves," Wang said. "Consort Zhen, a woman suffering from warfare and given to Cao Pi as a trophy, keeps her pursuit of beauty and love throughout her life, and becomes an inspiration for Cao Zhi in the form of the Luohe River Goddess."
Yi Xingyan, the lead dancer of the dance "Night Banquet in Tang Palace" which went viral after making its debut at the Spring Festival Gala of Henan Satellite TV in 2021, is cast in the role of Zhen.
Gai Zheng, a young talent and lead dancer of ZSDT, will play the role of Cao Zhi.
"Chinese audience members are familiar with women's group dance in classical dance shows," he explained. "We will offer a unique viewing experience, as a group of male dancers will offer a refreshing performance accompanied by the reciting of Cao Zhi's 'Duckweed Verse,' depicting the carefree life of the young poet and his kindred-spirited friends."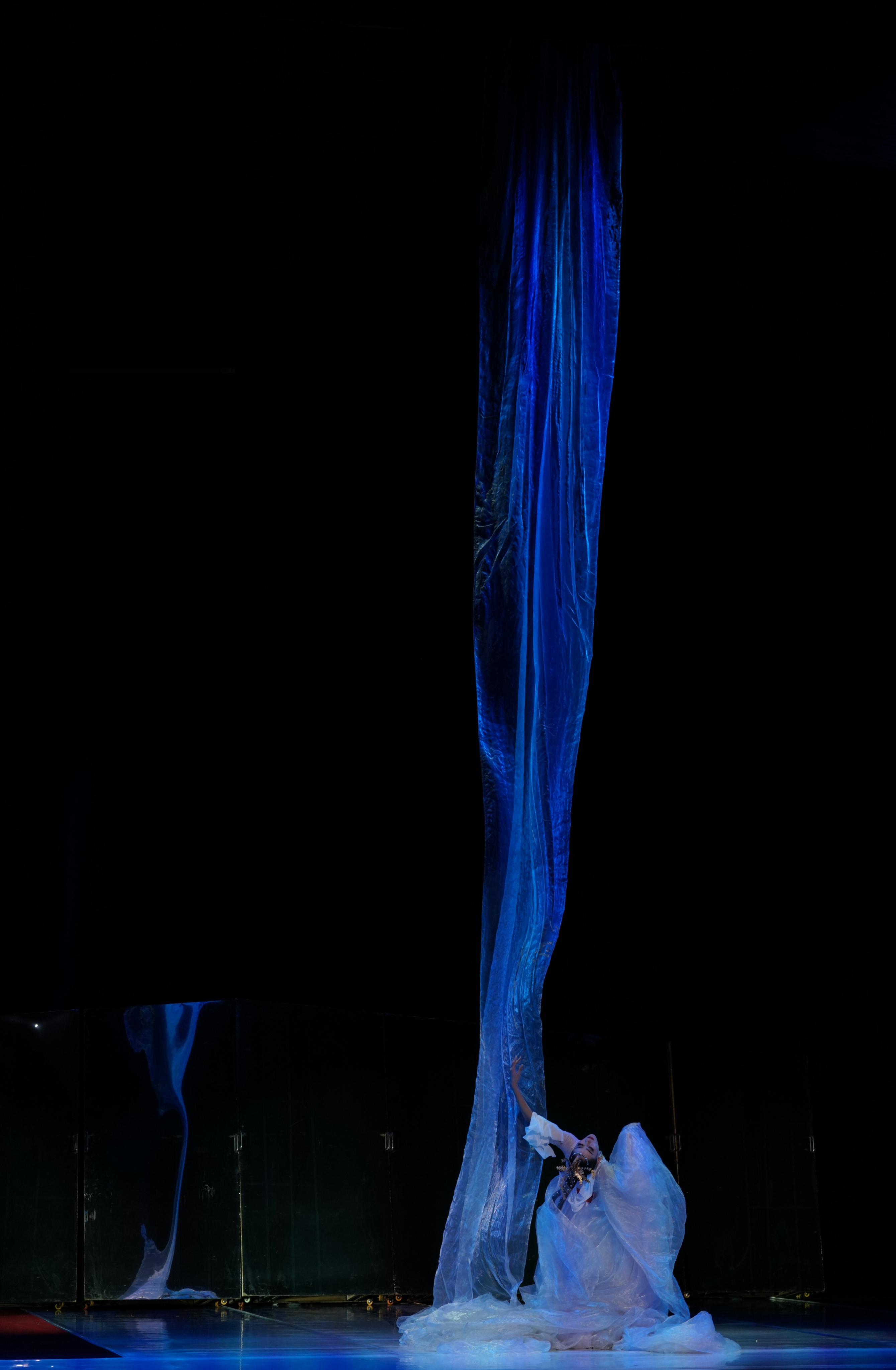 A scene from "Shui Yue Luo Shen."

Zeng Pengfei, cast in the role of Cao Pi, shared his take on the show. "We mean this show to be faithful to the facts in its depiction of historical figures," Zeng said.
"People may not know that Cao Pi, whose character and decisions were primarily defined by his political ambitions, was also a good poet. He was a realistic and optimistic man."
Zeng also said that the storyline tries to present the different perspectives of the heroes instead of issuing judgments and casting them in simplicity roles as a "good guy" or "bad guy."
ZSDT's president Sun Shujie said his theater has always endeavored to mine gold from traditional Chinese culture and come up with innovative ways to present it.
The theater is also behind such successful dance dramas as "Shaolin in the Wind" (featuring Shaolin Temple and Chinese kungfu) and "Loyalty to the Country" (based on the life of patriotic poet Yue Fei).