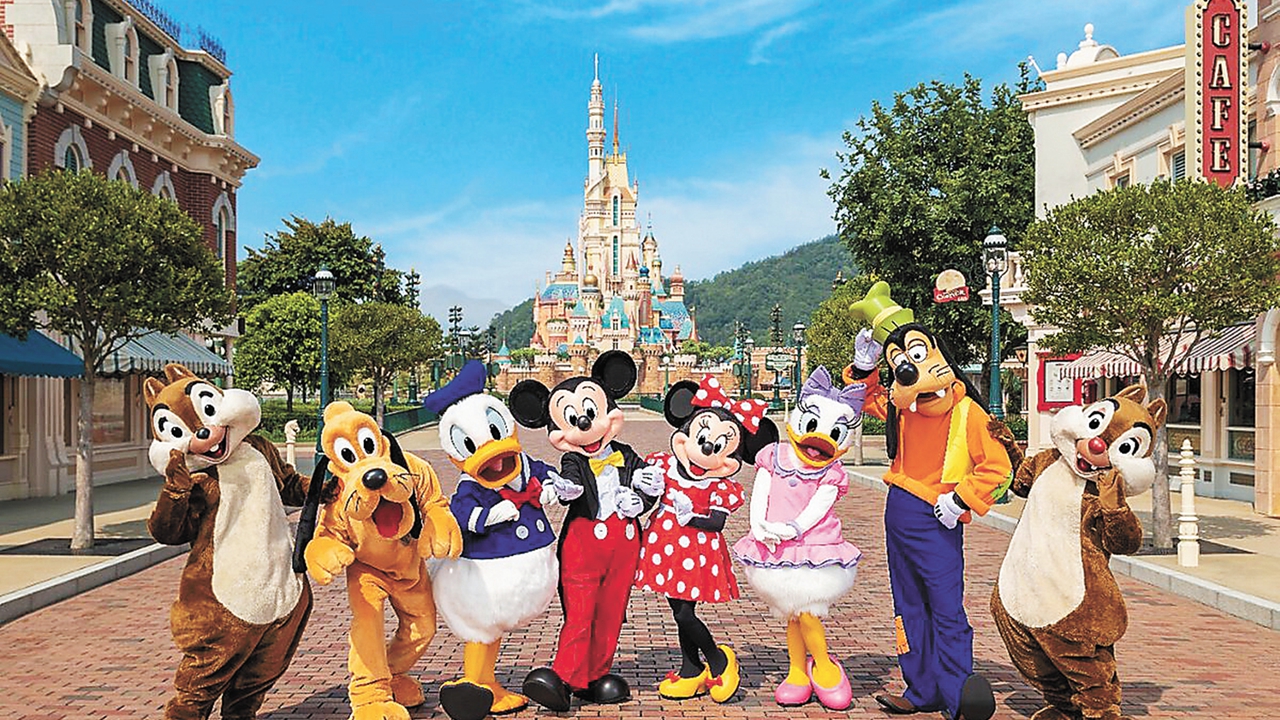 Hong Kong Disneyland. Photos by SD-Agencies unless otherwise stated
Hong Kong Disneyland

As the first Disneyland in China, Hong Kong Disneyland is an awesome choice for families with kids to have fun. Hong Kong Disneyland is the largest theme park in Hong Kong located on Lantau Island. The park consists of seven themed areas: Main Street U.S.A., Fantasyland, Adventureland, Tomorrowland, Grizzly Gulsh, Mystic Point and Toy Story Land. It is worth spending about half day to one day throwing yourselves in this paradise with thrilling activities and amazing performances.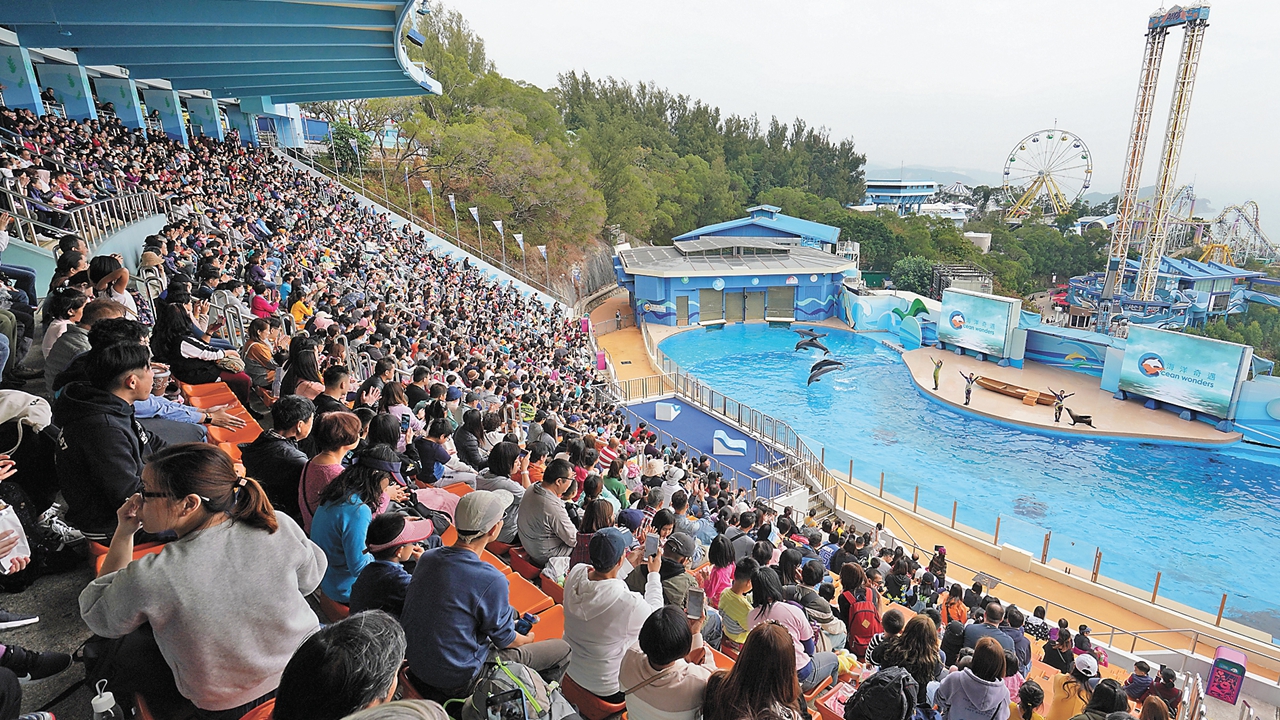 Visitors watch a dolphin performance at Hong Kong's Ocean Park. China News Service

Ocean Park
Ocean Park is another destination for family with kids. It is a marine mammal, animal theme park and amusement park situated in Wong Chuk Hang and Nam Long Shan in the Southern District. Travelers can explore major attractions in the park including Shark Mystique, Polar Adventure, Old Hong Kong, Thrill Mountain, Rainforest, Aqua City and Amazing Asian Animals.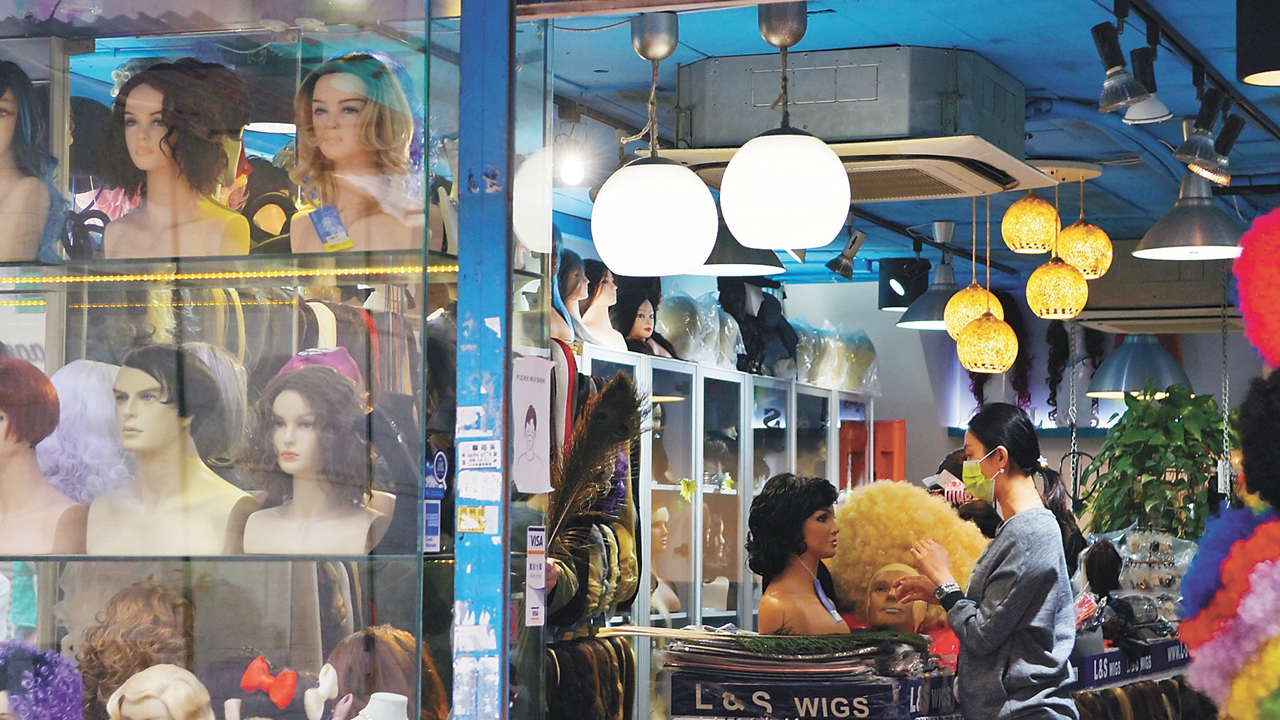 A shop at Temple Street Night Market. Xinhua

Temple Street Night Market
When night falls and neon buzzes, Hong Kong's liveliest market — Temple Street night market — rattles into life. This street extends from Man Ming Lane in the north to Nanking Road in the south and is cut in two by the historic Tin Hau temple complex. It is a fantastic place to immerse in the bustling atmosphere, and hunt for some food on offer from the street-side stalls. Open until midnight, this place served as the backdrop to many memorable movies.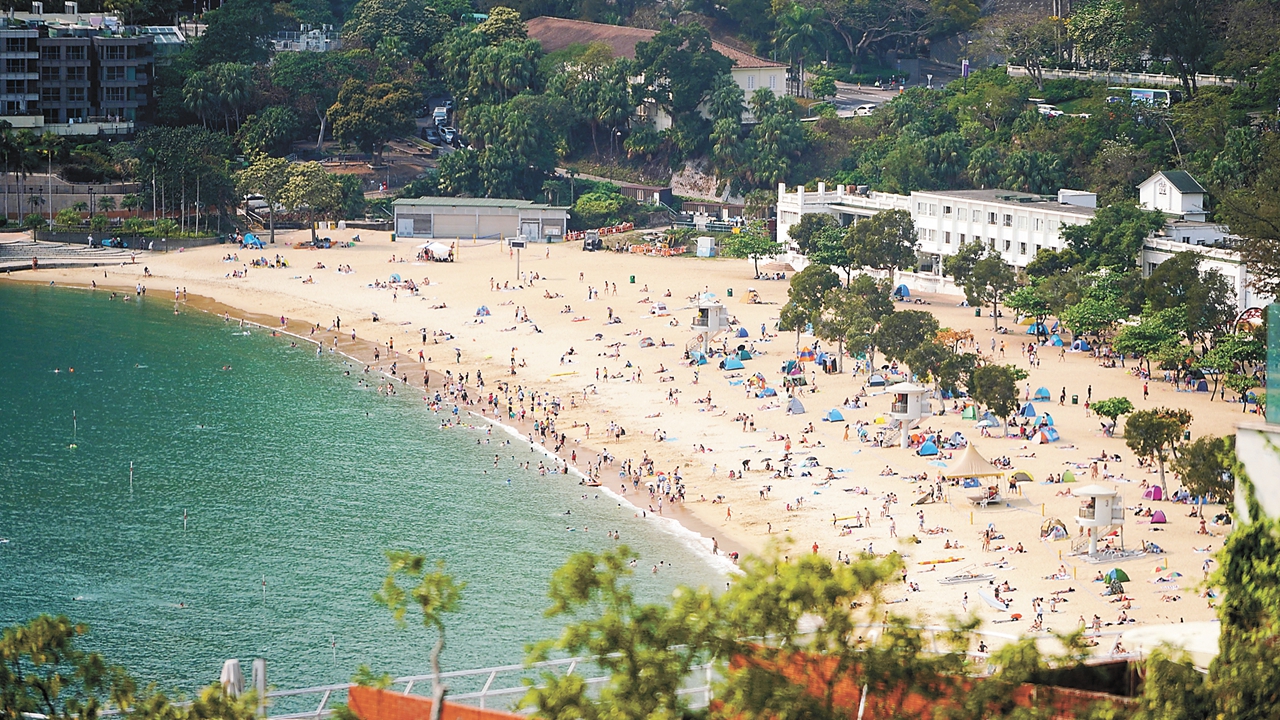 Repulse Bay beach is Hong Kong's most famous beach. China News Service

Repulse Bay
Repulse Bay beach is Hong Kong's most famous beach and home to some of its richest residents. The hills around the beach are strewn with luxury apartment blocks while the beach is great for strolls in the early morning or late afternoon. You can take a walk towards the southeast end of Repulse Bay beach to Kwun Yam Shrine.
This stunning beachfront location, offering a wide range of al fresco dining options, is the perfect place to unwind. It was purportedly named after a British Royal Navy ship, HMS Repulse, while its apt Chinese name, Tsin Shui Wan means "shallow water bay." The water is clear, calm and especially inviting for taking a dip in the sea.
Stanley Market
Located on the south coast of Hong Kong Island about 13 kilometers from the Central, the seaside village of Stanley can offer you a peaceful escape with stunning sea view. The Stanley Market is a good place to buy clothing, handcrafts, accessories, and many kinds of souvenirs. The market winds its way down the narrow streets towards the waterfront and the Stanley Promenade, a lovely place to stroll around on a sunny day. The Stanley Plaza is a place full of cafes, gourmet shops and a playground.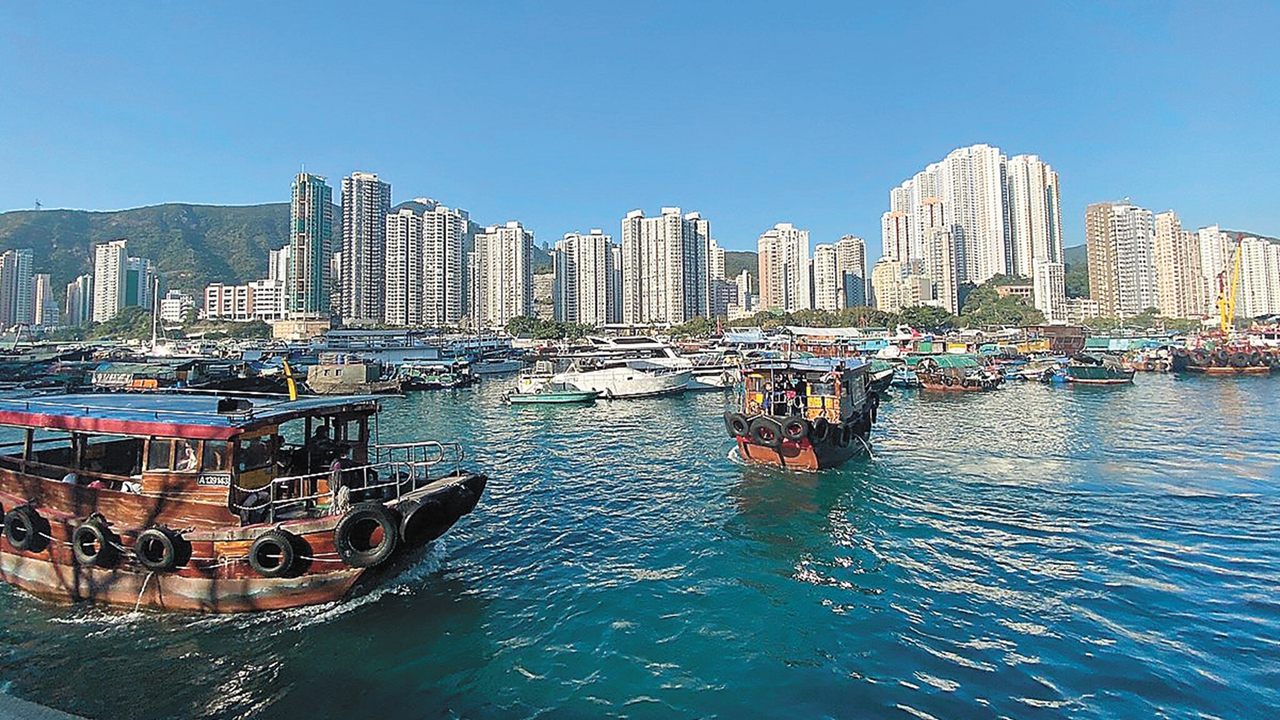 The Aberdeen Harbor attracts visitors with its floating fishing village and seafood restaurants.

Aberdeen Harbor
Located on southwest Hong Kong Island, Aberdeen is about 7 kilometers from Wan Chai or Causeway Bay. The place attracts not just tourists but also locals with its floating village and seafood restaurants in the Aberdeen Harbor.
Some tour companies offer a one-hour boat tour — or 90 minutes with lunch — that recounts historical moments during the area's development into a bustling urban town. It is a time-efficient way to take in local landmarks along the waterfront while enjoying the spectacular vistas looking out to sea.
You can also enjoy a walk along the waterfront to see numerous ferries and ships stopping or sailing on the harbor.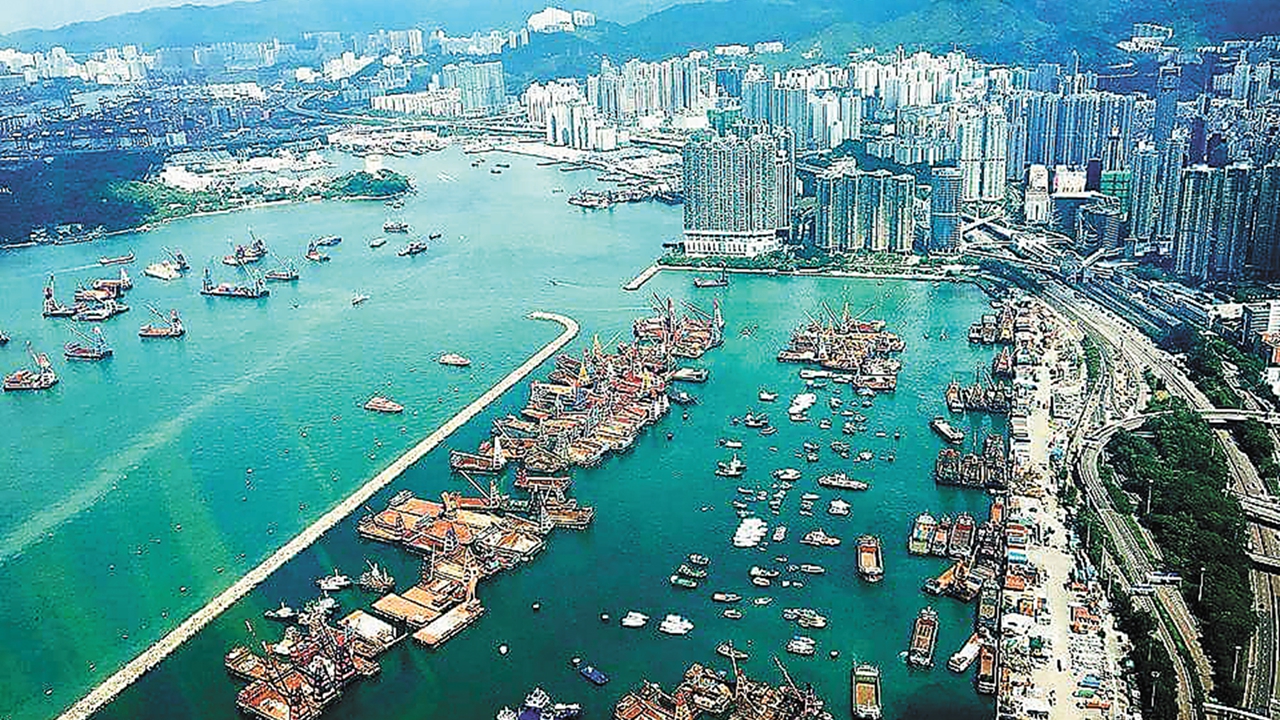 Located on the 100th floor of International Commerce Center (ICC), Sky 100 is another place to enjoy a panoramic view of Victoria Harbor and Hong Kong skylines.

Sky 100 Hong Kong
Observation Deck
Sky 100 is another place to enjoy a panoramic view of Victoria Harbor, Hong Kong skylines and even Macao. Located on the 100th floor of Hong Kong's tallest building — the 118-floor International Commerce Center (ICC) — Sky 100 Hong Kong Observation Deck, the indoor observation deck offers incredible 360-degree views. Besides the spectacular views, you can explore different facets of Hong Kong at Sky-High Tech Zone (VR and AR experiences) and a 28-meter-long multimedia story wall (100 fascinating local tales and anecdotes). An elevator brings you from second floor to 100th floor in merely 60 seconds.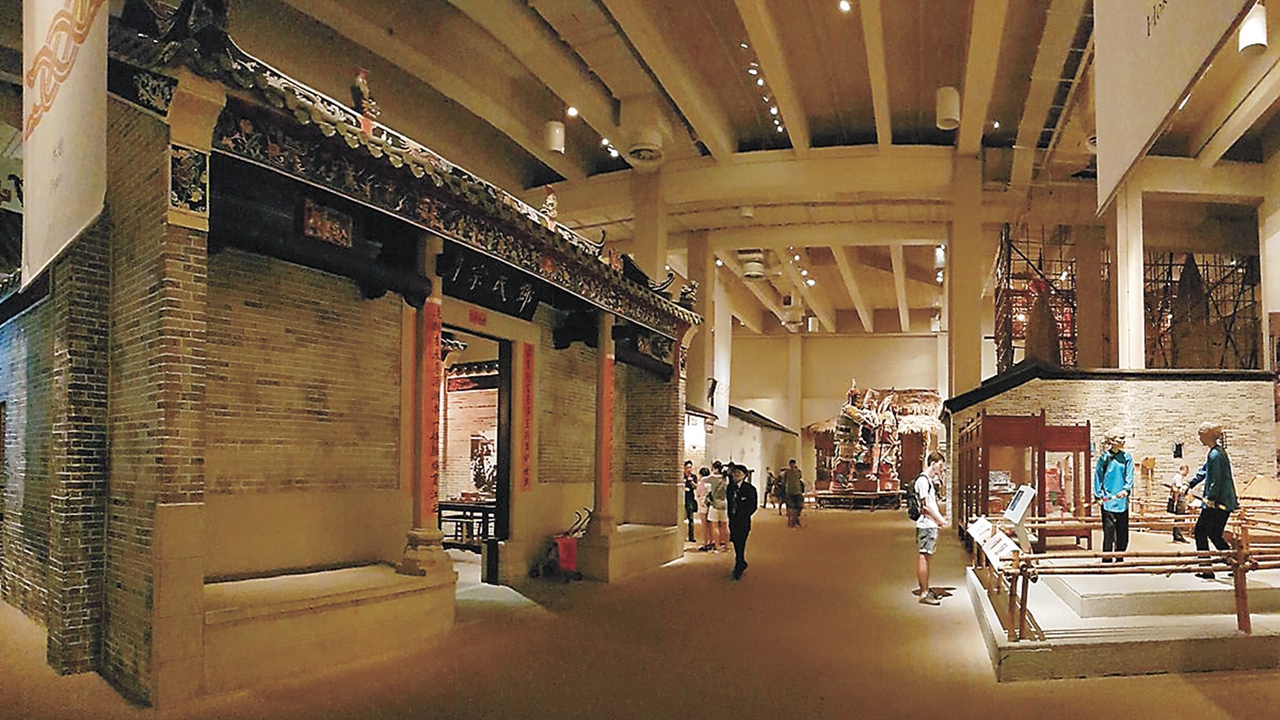 A hall in the Hong Kong Museum of History.

Hong Kong Museum of History
If you only have time to visit one museum, Hong Kong Museum of History should be on your list. Its whistle-stop overview of the territory's archaeology, natural history, ethnography and local cultures will help to give context to your experience of Hong Kong. Visit "The Hong Kong Story" and you'll enjoy a fascinating walk through the territory's history, starting with the natural environment and prehistoric Hong Kong about 6,000 years ago, and ending with the territory's return to the motherland in 1997. Besides, you'll explore folk culture and customs, encountering colorful replicas of the dwellings of early inhabitants, having a look at traditional costumes and beds, a recreation of an arcaded Central street from 1881, and also exploring Hong Kong's urban culture.