In the government report delivered at the opening meeting of the first session of the 14th National People's Congress, Premier Li Keqiang said China will channel more medical resources towards the community level to improve the life quality of residents and improve the governance capacity at the grassroots.
In Shenzhen, construction of the international blocks has become one way to improve its public services and management capabilities at communities in its drive to build an internationalized modern city drive.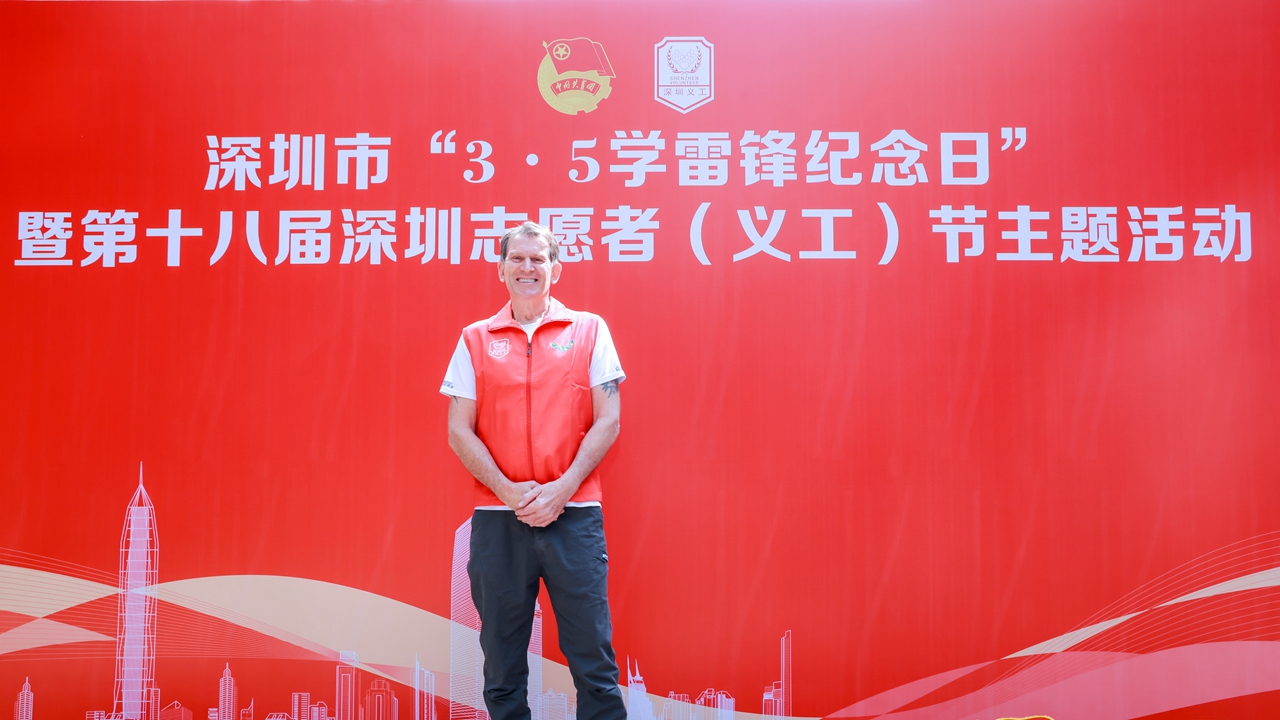 Stewart Hansen from New Zealand in a volunteer vest poses for a photo at a volunteer event Sunday. Courtesy of the interviewee

At a plaque-awarding ceremony last week, Shenzhen's foreign affairs office commended the first batch of 20 international blocks, which had been regarded as a platform for expats to integrate with local people and a way to improve their quality of life.
"The building of international blocks has enhanced communications with the expat community, improved the quality of expat life in Shenzhen and tightened the exchanges between the local and expat communities," said Stewart Hansen, an expat from New Zealand who had lived in the city for seven years.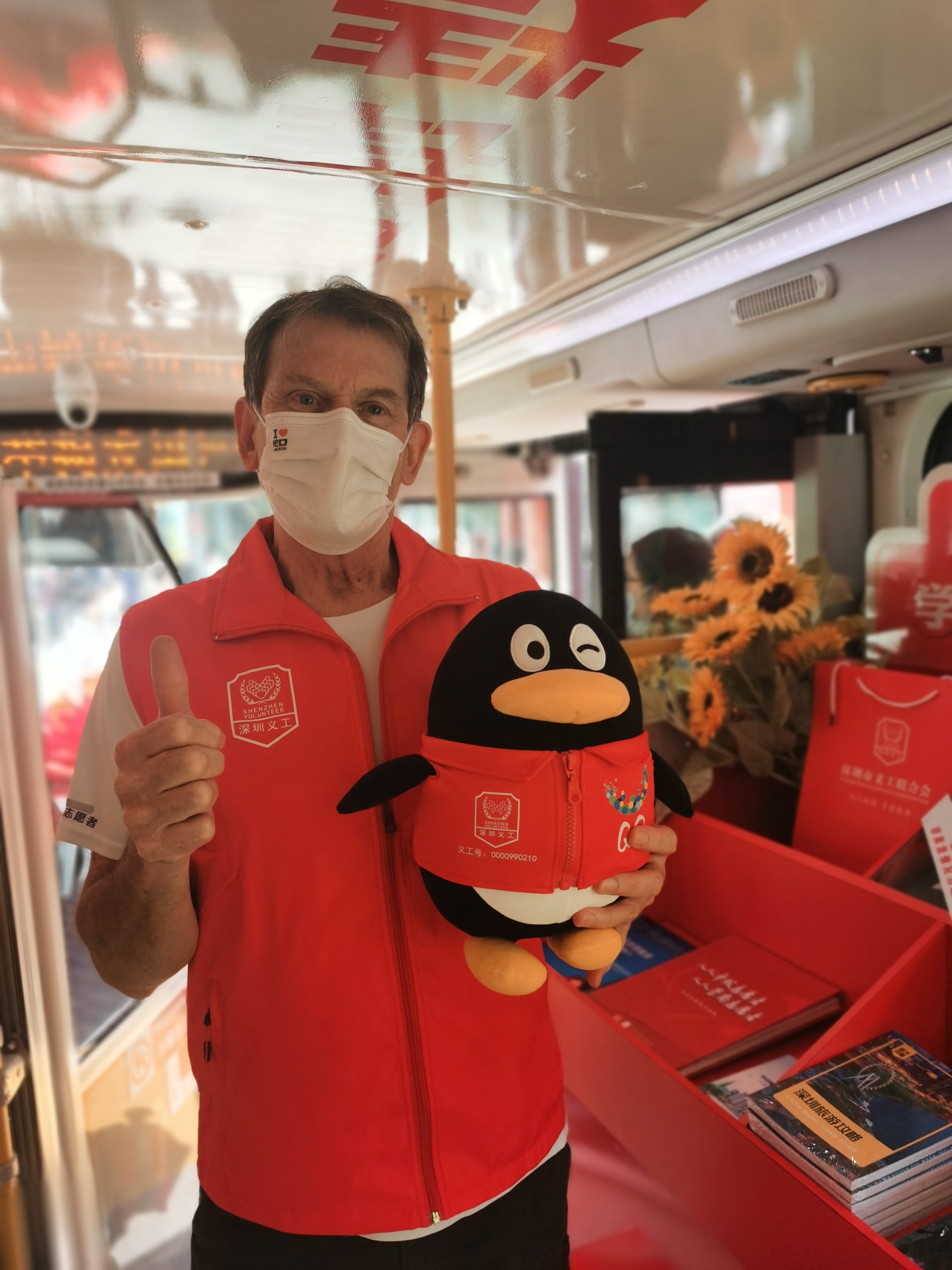 Hansen during volunteer service.

Hansen was commended as one of the top 10 volunteers for the year of 2022 by Shenzhen Municipal Committee of the Communist Youth League of China at a theme activity to mark the 18th Shenzhen Volunteers Day, which fell on March 5.
When Hansen came to Shenzhen in 2016, he felt that expats in Shekou were isolated from the local community, and there was insufficient authoritative and timely information available for the expat population.
But with the establishment of the Shekou Management and Service Center for Expats in 2017,he said life quality of expats had been improved thanks to the Chinese language classes, information seminars, free legal services and free psychological counseling sessions provided to the expat community.
"The various activities like crafts, culture trips, food, music, sports and festive events had enhanced communications among the expat and local communities," said Hansen, adding it had helped transform how expats live in their community.
Hansen talks to a staffer with Shekou Management and Service Center for Expats during a campaign to remove inappropriate English translations in public places.

"Over the past couple of years, more international kindergartens and schools have been built or expanded to offer more choices and meet the demand of expats in the community," said Hansen. In Shekou, expats from different countries can send their children to different international schools like the schools for Korean, Japanese and English-speaking families.
"In medical services, in addition to some international clinics, it is easy for expats to access local hospitals like Shekou People's Hospital and Nanshan People's Hospital because they provide English translation service," said Hansen.
During the pandemic period, local expats can make appointment for COVID-19 vaccinations through multilingual app channels, according Hansen. The high quality and good standard schools and medical services attracted foreign talents and businesspeople to settle and call Shekou home away from their home.
The improvement of the public service at the international blocks will attract more international talents to settle in Shenzhen, who will contribute to the city's economic development.
The economic growth is one of the top priorities of the Chinese Government. "In the government report, China has set a goal to achieve an economic growth of around 5% in 2023, attract foreign investment, expand market access and give priority to the recovery and expansion of consumption. These incentives will benefit China, and the world as well," said Hansen.
"Take New Zealand, which is known for its fruit and formula milk, as an example. Exports of New Zealand products to China will increase if the consumption [in China] picks up, and the tourism industry of New Zealand will also benefit if the outbound travelers from China increase," said Hansen.
Hansen said he feels at home in Shenzhen, and wanted to make the city even better by contributing his part.
He has joined a volunteer program in Shekou. "The international volunteer program developed by the Shekou Management and Service Center of Expats have given us an opportunity to contribute to our local community. It is good to get involved in community activities," said Hansen.
For his voluntary work over the years, Hansen was awarded with a unique badge with the number 001 in March 2020, when Shekou International Volunteers Team was registered as a district-level team of the Shenzhen Volunteers Association.