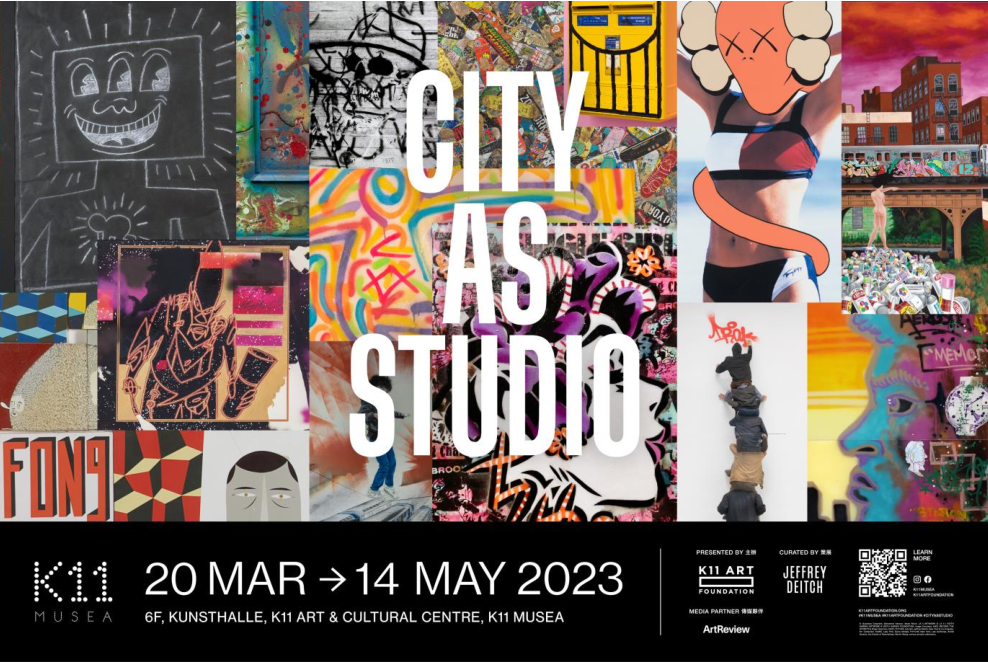 A poster of "City As Studio," China's first major exhibition of graffiti and street art. Photos courtesy of the organizer except otherwise stated
Curated by Jeffrey Deitch, "City As Studio," China's first major exhibition of graffiti and street art, is running through May 14 at K11 MUSEA in Hong Kong to coincide with Art Basel Hong Kong. The monumental exhibition features over 100 works by more than 30 artists, showcasing the breadth and depth of the graffiti and street art scene across generations, styles and geographies.
"'City As Studio' is the most extensive exhibition on the history of street art to be presented in China," said Deitch, curator of the exhibition. "The exhibition features major works by the innovators in street art from New York, Los Angeles, San Francisco, São Paulo, Paris, and Tokyo. It provides an immersive introduction to this vital movement which continues to resonate today."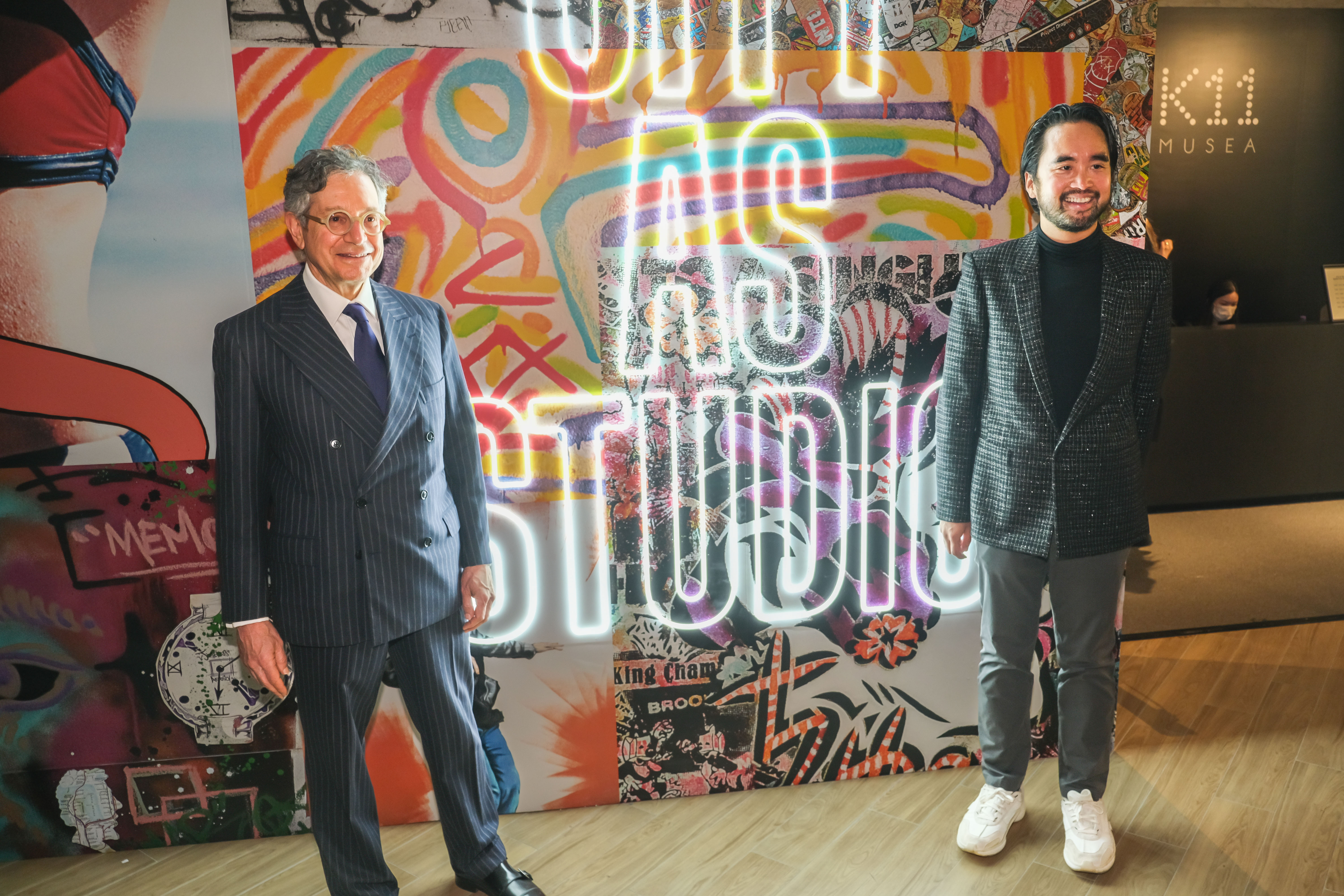 Jeffrey Deitch (L), curator of "City As Studio," and Adrian Cheng, founder of K11 Art Foundation, pose for a photo.

"City As Studio" traces the global history of graffiti and street art from its emergence in the subway yards and parking lots of 1970s New York to its rise as a worldwide phenomenon. It begins with the movement's pivotal innovators such as Fab 5 Freddy, FUTURA and Jean-Michel Basquiat who were part of the dialogue and the Downtown art scene of the late 1970s and early 1980s, and goes on to highlight artists such as Barry McGee, Mister Cartoon and OSGEMEOS, and the groundbreaking styles they created in San Francisco, Los Angeles and São Paulo.
The exhibition also documents the emergence and evolution of artists such as KAWS and AIKO who represent a younger generation of New York street artists.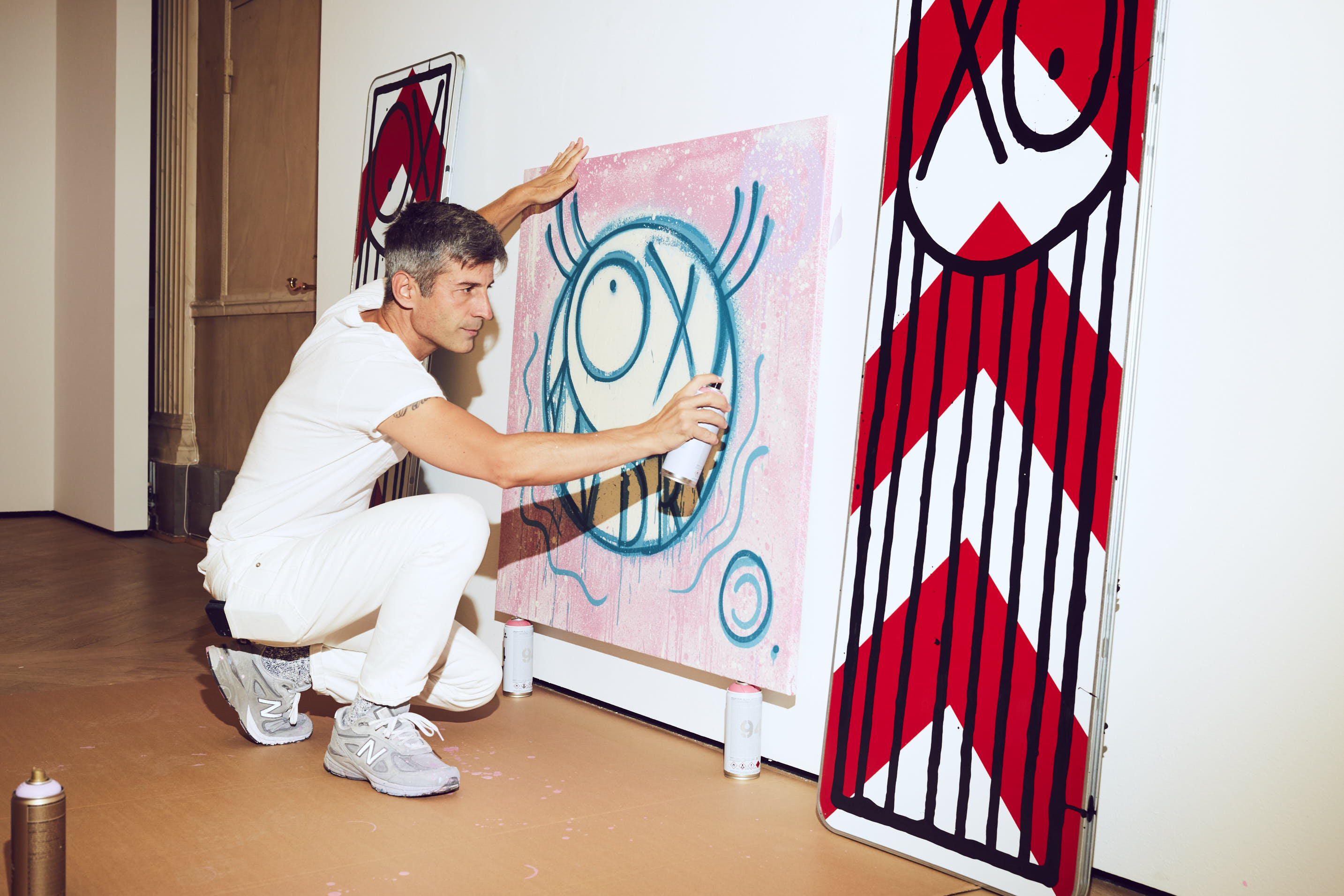 Pierre Björk. Courtesy of André Saraiva
Highlights of the exhibition include Basquiat's "Valentine" (1984), on loan from the personal collection of Paige Powell, alongside works by other seminal artists such as "The Bomb" (1983) by CRASH and "Untitled" (1983), a spray painting by Keith Haring spanning 3 meters.
Portraits such as "Keith Haring"(Red) (2010) and "Basquiat" (Red) (2010) by Shepard Fairey demonstrate how early practitioners of the genre continue to inspire younger artists, while FUTURA's work "El Diablo" (1985) — part of KAWS' personal collection — exemplifies the intergenerational dialogue and influence between street artists working today.
JR's work "Eye Contact #13" (2018) evokes old school rail yards as model trains on tiny tracks move back and forth, creating an optical illusion on each run. Examining how the movement shaped other genres, the exhibition will also display works such as Charlie Ahearn's film "Juanito," which captures the story of his twin, sculptor John Ahearn making casts of people in the Bronx and immortalizing them in plaster. Elsewhere, works by AIKO and Lady Pink explore how female artists responded and contributed to a genre traditionally dominated by men.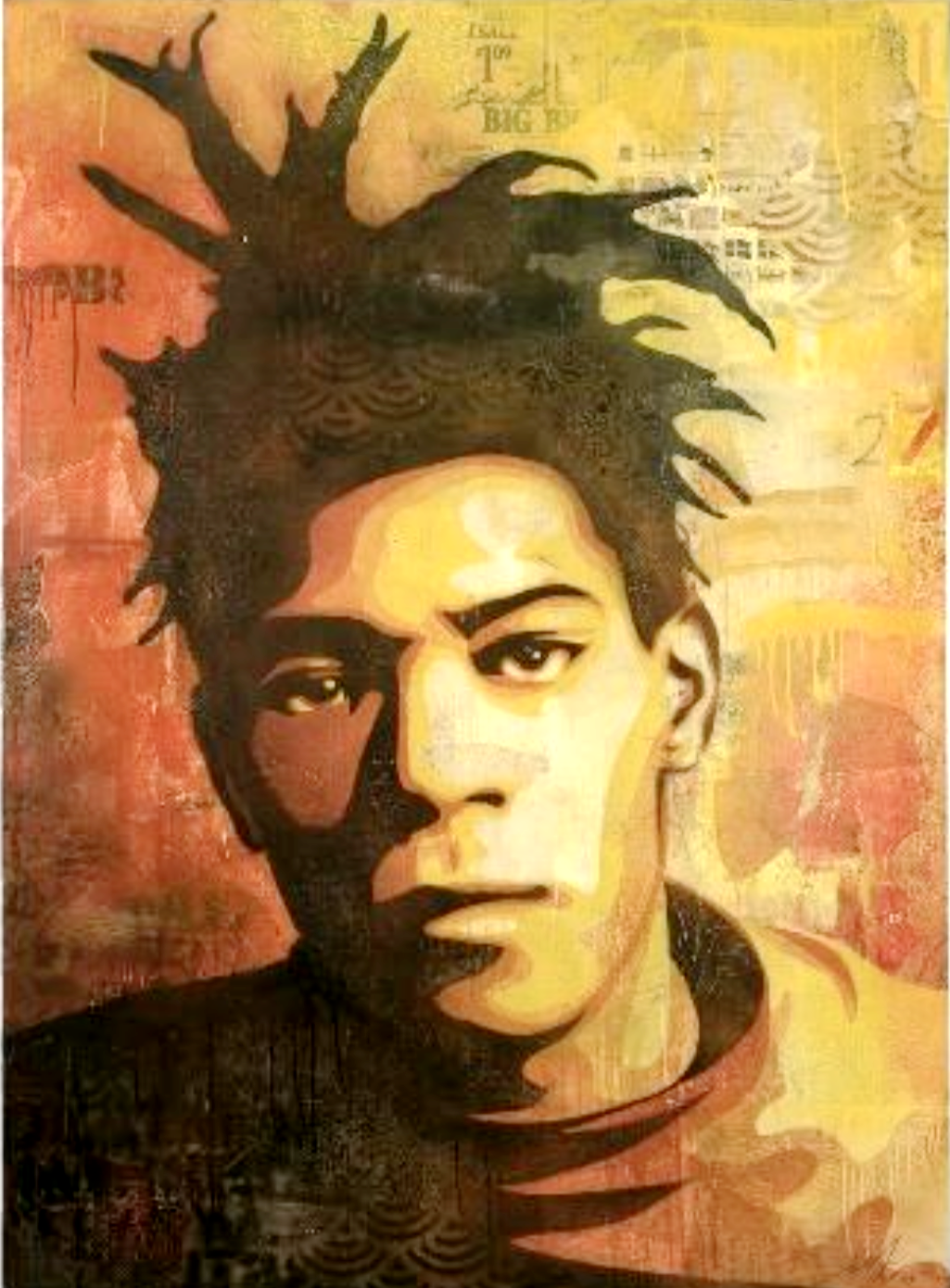 "Basquiat" (Red) (2010) by Shepard Fairey.
"City As Studio" is also presenting a series of compelling photographs by leading figures such as Gusmano Cesaretti, Henry Chalfant and Martha Cooper that document the artistry and urban impact of street artists in the 1970s and 80s.
Deitch has been involved with modern and contemporary art for nearly five decades as an artist, writer, curator, dealer, and advisor. During his tenure as director of the Museum of Contemporary Art, Los Angeles (MOCA), Deitch presented some 50 exhibitions and projects and published extensively about graffiti and street art. An advocate of graffiti art since the 1980s, Deitch brings curatorial expertise and a wealth of knowledge to "City As Studio," which is a culmination of years of research.
The exhibition looks back on half a century of development, traversing generations to uncover the past as a way to discover what the future has in store for the movement.
To accompany the exhibition, the K11 Art Foundation is presenting a diverse range of events and activities, including talks, screenings, audio guides, docent-led tours, and an education corner featuring online learning resources and an interactive graffiti tagging activity, and even more-for visitors across all ages and seeks to enrich the exhibition viewing experience and deepen understanding of street art online and offline.
"Jeffrey has been at the forefront of the institutional acceptance of street art, and we're delighted to work with him to bring this landmark exhibition to China," said Adrian Cheng, founder of K11 Art Foundation. "The cultural innovation embodied by works that defined a generation, street art's global artistic influence and its ability to powerfully engage diverse audiences is reflective of our wider mission."
To further enrich the visiting experience, a special edition of TÖÖF cards with fun art facts printed on the back will be introduced to inspire visitors as they navigate the exhibition.
Date: Through May 14
Time: 12 p.m. to 8 p.m.
Add: 6F, Kunsthalle, K11 MUSEA, Victoria Dockside, 18 Salisbury Road, Tsim Sha Tsui
Website: https://www.k11artfoundation.org/en/article/city-as-studio/
Tickets: general ticket HK$100; concession ticket HK$50