A new ice and snow world will open to the public at the Mission Hills Sports & Eco Park in Longhua District in early April, its management said.
Covering an area of 12,000 square meters, the project consists of an indoor ski hall, an ice skating hall and a comprehensive service hall. The three halls are constructed using new air membrane structure technology, with a large interior space free of beams and posts.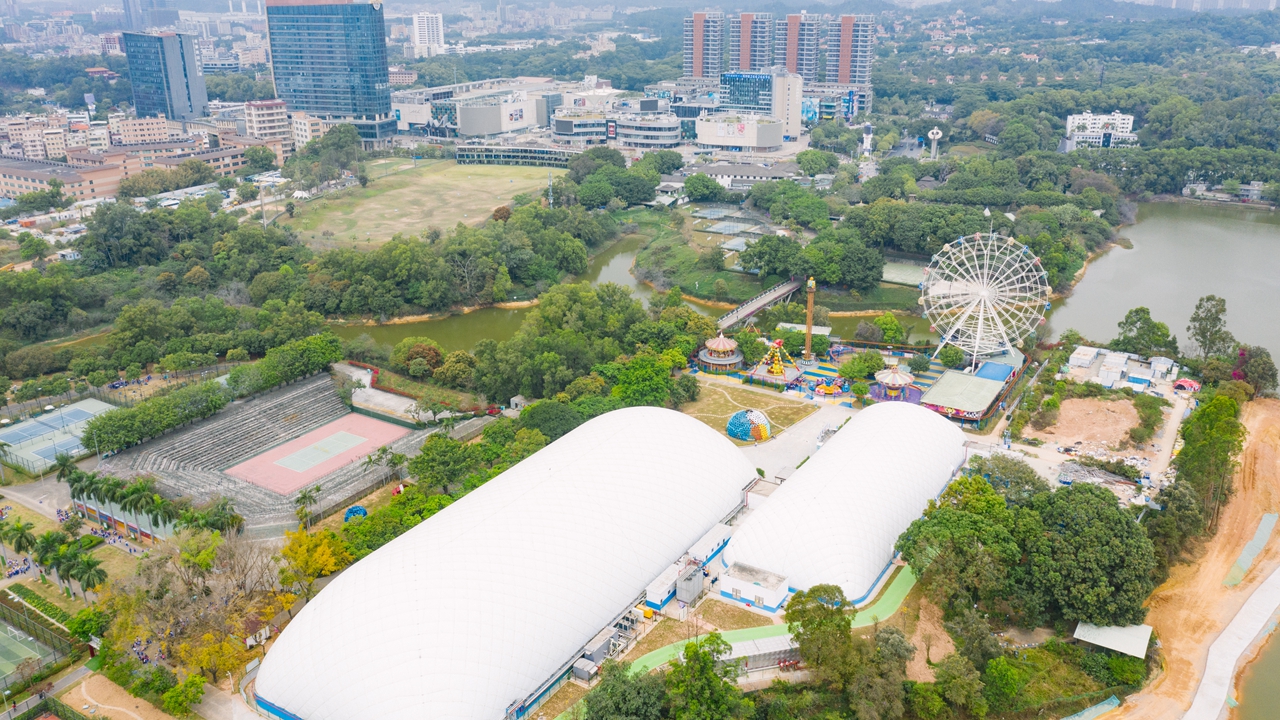 An aerial view of Karoo Ice Snow which looks like two white capsules.Photos by Chen Xiao

In addition to providing an ice and snow fun place for the public, the venue can also be used for indoor sports training and competitions, as it already has been designated as the training base for Guangdong provincial teams of ice and snow sports, according to the snow world's management.
With a novel appearance looking like two white capsules from the outside, the fun park's interior design reflects a Nordic style. Visitors can find imitations of world famous sights like the Jungfraujoch Sphinx Observatory in Switzerland, St. Mark's Bell Tower in Venice, Italy, and Hunter House in Finland. While entering a snow fairy tale town, children will also be amazed to find two lovely mascots there, Kaka and Lulu.
The ski site covers an area of 5,400 square meters, with its highest point reaching nearly 23 meters, providing a wide view for visitors with a super-large space design. Its perennial temperature is maintained between minus 3 and minus 5 degrees Celsius.
The most eye-catching facility inside is a ski track, 100 meters in length and 20 meters in width, with the height of its starting platform reaching 10 meters. Skiers can ride an electric magic blanket to the platform.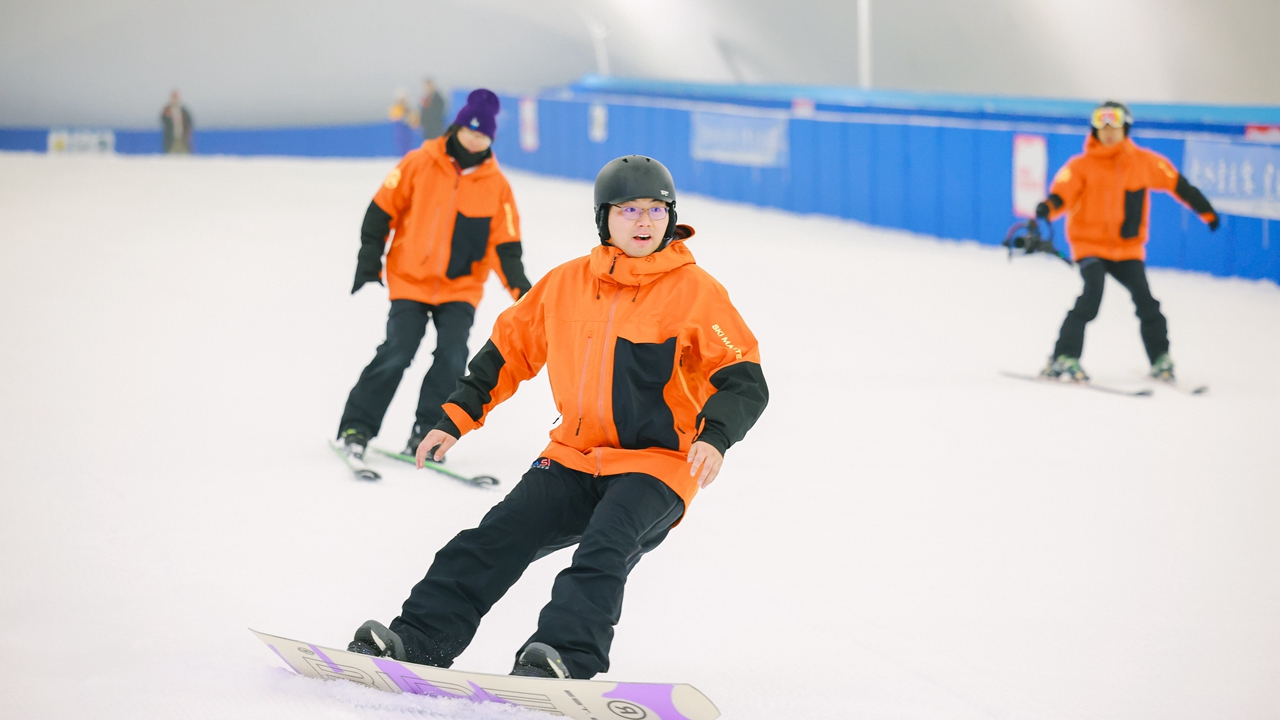 Players train inside Karoo Ice Snow.

The ski resort also provides various ice and snow games with different themes, allowing tourists to enjoy multiple ice and snow experiences.
The skating hall, which is still under construction, covers an area of 4,000 square meters with the indoor temperature kept between minus 16 and minus 25 degrees Celsius. It boasts stands that can seat 450 people, and 1,560 square meters of ice surface that meets the competition requirements of National Hockey League in North America, which is arguably the most prestigious professional ice hockey league worldwide.
Equipped with large LED screens and a high-end audio system, it can host professional sports training and competition activities such as ice hockey, figure skating, and speed skating.
An ice house inside Karoo Ice Snow.

The comprehensive service hall covers an area of 2,800 square meters, with an indoor height of 14 meters. It connects the ski hall and the ice skating hall with a corridor. There are service centers, medical rooms, changing rooms, catering service areas, souvenir sales areas and ski classrooms, providing comprehensive services for tourists.
As a key cultural and sports project introduced by Mission Hills Group in recent years, the fun park not only enriches the cultural and tourism industry of the company, but also shows the company's cooperation with the national strategy in developing ice and snow industries, a spokesperson of the company told Shenzhen Daily.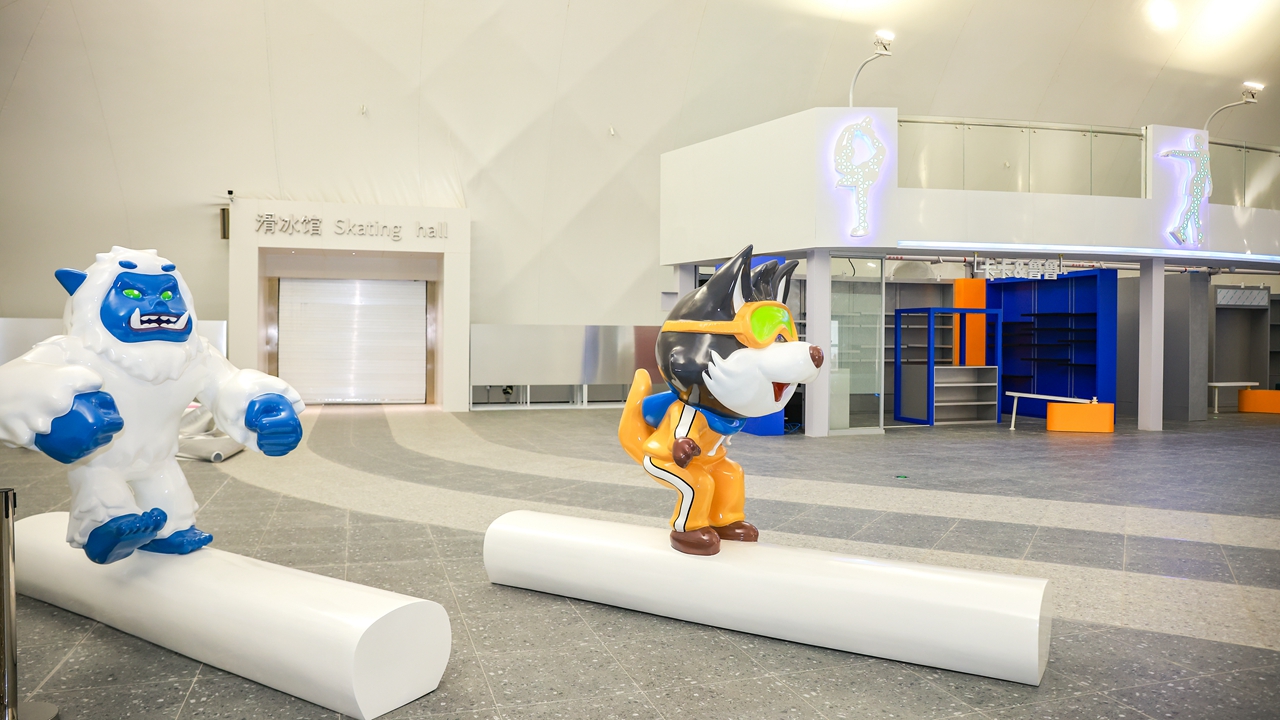 Mascots inside the ski hall of Karoo Ice Snow.

"We hope it can not only provide better professional training support for provincial and national teams, but also a fun ice and snow experience for people from the Guangdong-Hong Kong-Macao Greater Bay Area," the spokesperson said.
Venue: Karoo Ice Snow, Mission Hills Sports & Eco Park, Longhua District (观澜湖生态运动公社内卡鲁冰雪世界)
Metro: Line 4 to Mission Hills Station (观澜湖站), Exit A