In the second half of this year, BASF's Thermoplastic Polyurethane plant, the second plant of BASF's Zhanjiang Verbund site, will be put into operation. Along with the first plant that produces engineering plastic compounds, BASF will meet the demand of its Asia- Pacific customers, particularly in new energy and electric vehicle industries.
At the ongoing Chinaplas, a leading plastics and rubber trade fair, BASF announced that its more than 50 polyphthalamide (PPA) compounds would be available from the second quarter of 2023 for customers in China and Asia-Pacific. The compounds will meet the market demand for lightweight and high-performance plastic components in the automotive industry.
"The Zhanjiang site, which costs 100 billion euros (US$109.55 billion) in investment and will be completed by 2030, is BASF's largest investment and ultimately BASF's third-largest site worldwide, following Ludwigshafen in Germany and Antwerp in Belgium," Jeffrey Lou, president and chairman of BASF Greater China, said.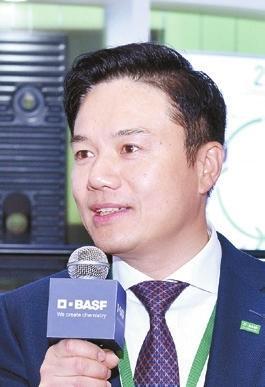 Jeffrey Lou

As a multinational company firmly committed to this dynamic market for many years, BASF has benefited from China's constant optimized business environment, more streamlined approval procedures and broader market access.
"The project would not be possible without the government's policies to widen market access and improve the business environment. China's strong manufacturing industry, especially the development of high-end manufacturing such as electric vehicles, will offer more opportunities for BASF's development in China," Lou said.
BASF now operates 26 major wholly-owned subsidiaries, 10 major joint ventures and maintains 23 sales offices in Greater China region, which posted sales of 11.6 billion euros and employed over 11,000 people at the end of 2022.
BASF aims to reduce carbon dioxide emissions by 25% in 2030 compared with that in 2018, and achieve net-zero carbon dioxide emissions by 2050.
"This is a big challenge. One of the most critical new technologies is to replace fossil energy with renewable electricity to produce essential chemicals, thereby significantly reducing carbon dioxide emissions. The company has secured 100% renewable power for its first plant that was put into operation in September last year. It has contributed to the Guangdong Verbund site having the lowest projected carbon dioxide emissions in the world," Lou added.
Many of the important industries that BASF serves as performance materials are automotive, including new energy vehicles, electronics, consumer products, footwear, infrastructure and 5G communications.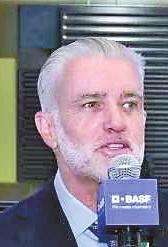 Andy Postlethwaite

"China remains a key market for all these segments, we will continue to innovate and collaborate with our customers in China," Andy Postlethwaite, senior vice president of Performance Materials of BASF Asia Pacific, said.
The company has seen a strong growth in China's automobile market, especially in new energy vehicles. Postlethwaite said the applications and commercialization of chemical materials in new energy vehicles such as the battery cover, electrical equipment and connectors, charging cables and interior decorations have been a part of the company's focus, in addition to the traditional combustion vehicles.