During the May Day holiday, a 13-member Indonesian tour group enjoyed a six-day trip through several eastern Chinese cities, including Hangzhou, Shanghai, Suzhou and Wuxi.
Yang Tik Cin, an Indonesian tourist, visited China with his family during the journey. "In just a few days, we experienced the profound historical and cultural heritage of the West Lake in Hangzhou and the classic gardens in Suzhou, and witnessed the rapid development and infinite vitality of the Chinese economy in Shanghai."
They were also impressed by the great hospitality of the cities and local residents. "In Suzhou, we even received a special welcome from the local tourism department. Everyone received a souvenir, a Suzhou-style fan," he added.
The group is the second Indonesian tourist group to visit East China after the resumption of foreign group tours for inbound foreigners by travel agencies and online tourism enterprises across China. Hangzhou Nota International Travel Service Co. Ltd., the agency that received the group, said it has welcomed hundreds of Indonesian tourists to China since April 21.
Indonesia is a major source of inbound tourists to China. Weng Jie, manager of the agency's inbound center, said that since China optimized its COVID-19 response measures and adjusted relevant travel restrictions, the travel agency has been actively laying out its plan for the Indonesian market.
"Right after the Chinese Lunar New Year, we went to Jakarta, Indonesia, to sign a partnership agreement with Sriwijaya Air and five of the most influential local travel agencies, in a bid to jointly promote travel packages to China," Weng said.
The first Indonesian travel group, which began its journey April 21, was greatly supported by the visa office of the Chinese Embassy in Indonesia and was also the first Indonesian group to receive a tourist visa to China this year. "After mid-May, 'Jakarta-Hangzhou' will become a regular travel route, with weekly flights continuously bringing Indonesian tourists to East China," Weng explained.
China's outbound tourism has also experienced a new boom.
A Chinese tourist poses for a photo in front of the Colosseum in Rome, capital of Italy, on May 1. Xinhua

Data from Alibaba's travel branch Fliggy showed that orders for outbound trips during the May Day holiday increased by 200% compared to this year's Spring Festival.
Another leading travel platform Trip.com Group, formerly known as Ctrip, also reported that during the five-day holiday, outbound travel orders increased nearly 700% from the same period of last year, with the number of outbound air tickets and hotel orders surging by nearly 900% and 450%, respectively.
Inbound trips also rebounded quickly. According to Trip.com Group, inbound trips via Hainan Province rose by 87% from the previous month.
Meanwhile, the Youyi Pass on the China-Vietnam border recorded 2,233 passengers from 104 tour groups from April 29 to 30, the first two days of this May Day holiday.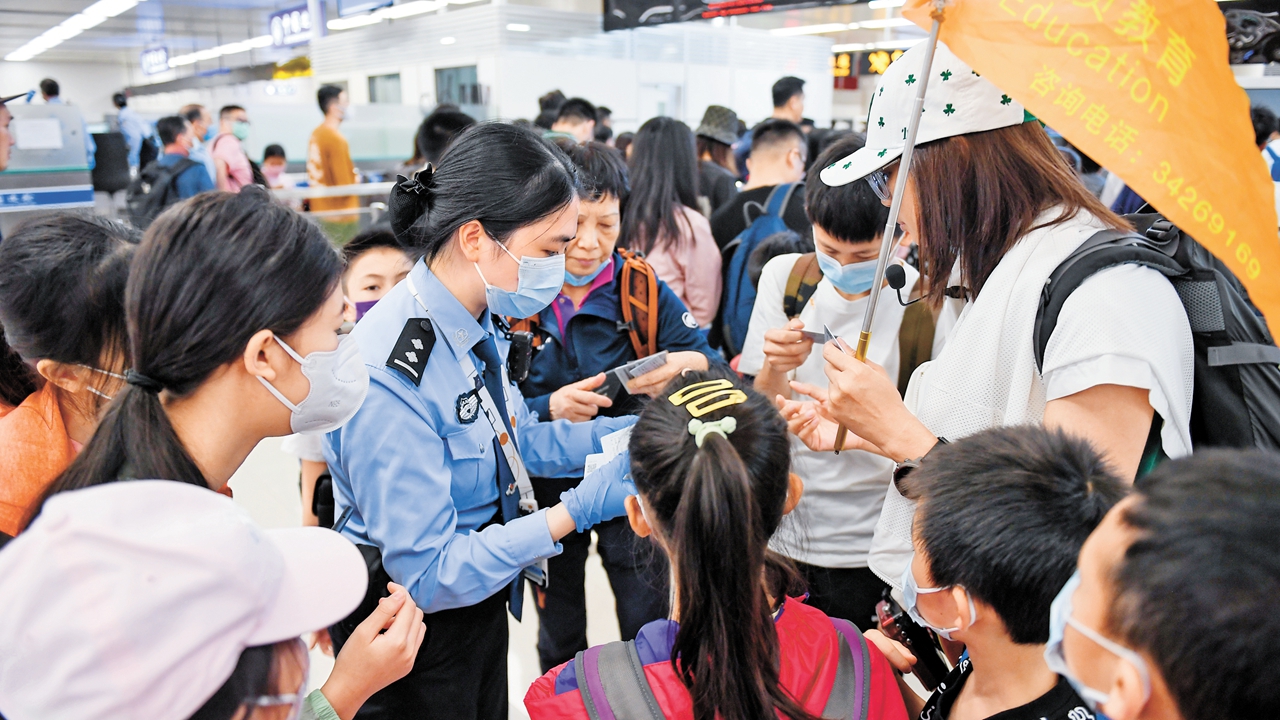 A frontier inspection officer answers questions from members of an outbound tourist group at Shenzhen Bay Checkpoint on April 29. Xinhua

"China has huge potential in its inbound tourism sector," said Sun Jie, CEO of Trip.com Group.
Aside from bringing in foreign currency, inbound tourism can help create more jobs, enhance China's international status, promote the image of a beautiful China, and act as a cultural bridge to boost international exchanges and world peace, Sun added.
Tourism companies are recruiting more staff. Tour guides who are proficient in languages such as Indonesian and Thai are in great demand, said Weng.
Starting from May 1, China has allowed virtual APEC Business Travel Card (ABTC) holders to enter China using the card, which serves as a substitute for a visa. Such policies have sent positive signals and further boosted the inbound tourism.