World-renowned algebraist Efim Zelmanov received an appointment certificate from Xue Qikun, president of the Southern University of Science and Technology (SUSTech) last September to officially become a chair professor of the university.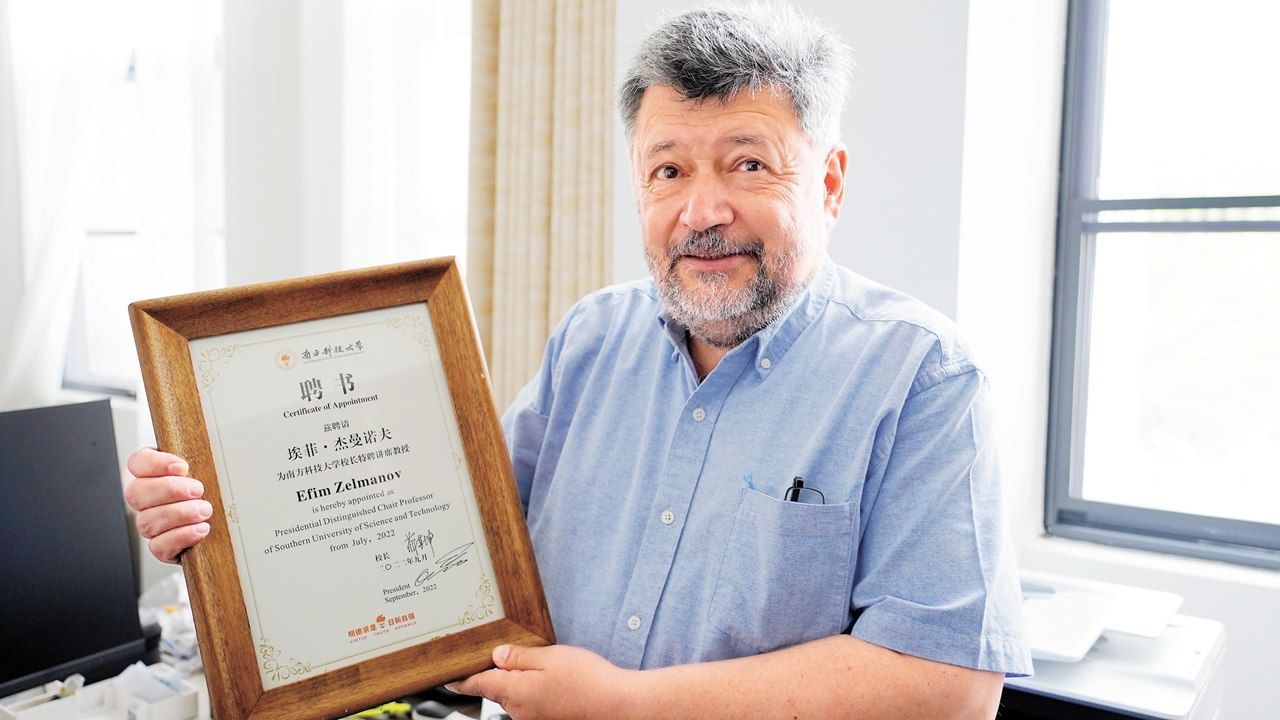 Efim Zelmanov displays the appointment certificate he received from SUSTech in an interview with Shenzhen Daily in April. Lin Songtao

In 2019, Zelmanov was a visiting professor at SUSTech and appointed founding director of the SUSTech International Center for Mathematics, also known as the Shenzhen International Center for Mathematics.
The Russian American is known for his work on combinatorial problems in Jordan algebra and group theory, and was awarded the Fields Medal in 1994 for the solution on the restricted Burnside problem.
In recent years, Zelmanov has devoted his time to hiring top talents and researchers around the world to the mathematics center as well as inviting them to attend international academic conferences at SUSTech and other exchange programs.
Zelmanov won the first Guangdong Friendship Award this March for his remarkable contributions to the province's development and international exchanges.
Friendship Award, honor and hope
"The Guangdong Friendship Award, like an outstretched hand of friendship, means a lot to me. I am working in Guangdong, which means I am welcome, and being a friend of Guangdong Province is great. I am hopeful for fruitful work in the future because I have been here for only a year. We have planned a lot of work in the future session, so I have great hopes to achieve something here," Zelmanov told Shenzhen Daily.
The Guangdong Friendship Award, established by the provincial government in 2022, recognized 49 nationals from 23 countries for their outstanding contributions to the province's development and international exchanges.
Zelmanov said they will engage in more international cooperation and organize conferences to increase the center's international influence in the future.
Talent is future of center
Since the center was established, Zelmanov has brought many distinguished international scholars to SUSTech. "You will hear all kinds of speeches, all the same if you go to the Silicon Valley. Our center is very international with a very multicultural atmosphere. We expect the center will be flooded with visitors and I hope some of these visitors and scholars will decide to stay," he said.
Zelmanov valued the role of talents who, he said, are the future of the mathematics center. "We have to bring the best people when we do hiring. It is important to attract talents to our center," he said.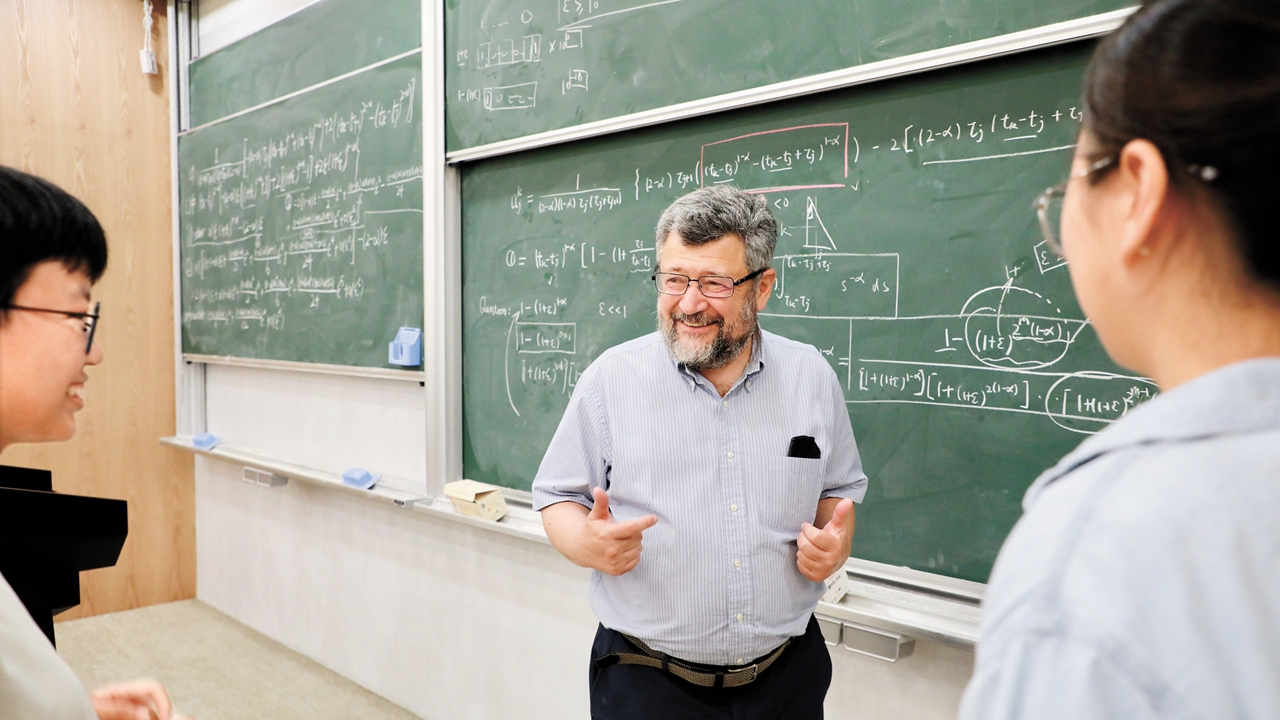 Efim Zelmanov talks with SUSTech students at a class in this undated file photo. Courtesy of SUSTech

Inviting top talents to visit Shenzhen and the university on their own is more persuasive in comparison to just sending invitations. "If you just sit and wait, the best people won't come. We have to go to them. When top-class researchers and talented people see Shenzhen, maybe they will like it," Zelmanov said.
Great city, great university
In Zelmanov's opinion, a great city needs a great university.
"Shenzhen is a great city and needs a great university. It was a great opportunity for me to try to take part in developing the SUSTech International Center for Mathematics. We will make SUSTech great," he said.
Zelmanov left for California after the pandemic started but felt that his heart wasn't there, so he finally returned to SUSTech last year as a full-time chair professor.
"I could see the great energy that radiates from Shenzhen and SUSTech. You feel the same thing in New York," Zelmanov said. "Shenzhen is a pleasant city to live in. SUSTech has a beautiful campus. It's pleasant to work here with all kinds of restaurants and a lot of attractions."
Additionally, Zelmanov spoke highly of the city's efficiency.
"We talked to the president of SUSTech and other people, and we discussed some things and then things are done very quickly," he said.
"Shenzhen is also a tech hub, home to great tech companies. That's an additional bonus force for our center. Students could have internship opportunities in these big companies and might work at these companies after graduation," Zelmanov added.
New techs rooted in mathematics
Most people think mathematics is a difficult subject. Zelmanov agreed but said that without rigorous math courses, one cannot move further into engineering or technology. Concepts such as information revolution and artificial intelligence are all rooted in mathematics.
"Mathematics is very important, but particularly now as it affects various aspects of our life. For example, each time you pay with WeChat or withdraw money from an ATM, there is a lot of mathematics involved," Zelmanov said.
"Mathematics is not about memorizing. You have to understand, to see the beauty and harmony. If you don't see and just remember formulas, it's a disaster. So, we also work with local high schools to improve teaching mathematics," Zelmanov added.