With a "beep," a local resident surnamed Liu paid his bill with e-CNY, China's digital yuan. The "beep" came from tapping the e-CNY app on a smartphone to complete a transaction at any vendor's point-of-sale terminal (POS). The function was rolled out during the second-round pilot use of e-CNY in Shenzhen in 2021.
China's e-CNY is no longer confined to just promotion. Citizens are now gradually accustomed to using the digital currency for ordering takeaways, group-buying items, restaurant vouchers, renting bikes, and booking various tickets among so many other purchases.
After two years' trial, Shenzhen has built a sound ecosystem for use of e-CNY. According to the Shenzhen Central Sub-branch of the People's Bank of China (PBOC), by the end of 2022, a total of 28.41 million digital wallets had been opened with transactions totaling 37.69 billion yuan (US$5.45 billion). In addition, e-CNY application scenarios in the city had been expanded to 1.299 million.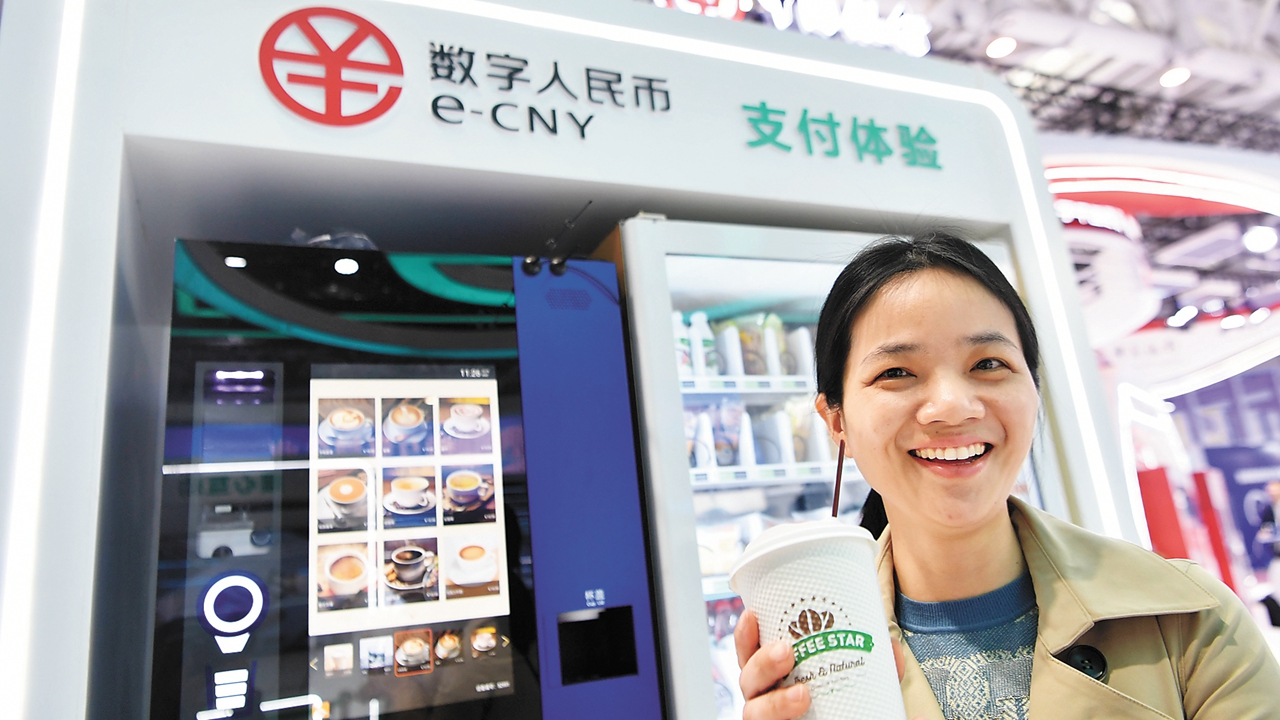 A visitor holds a cup of coffee she bought with digital yuan during the 6th Digital China Summit in Fuzhou, capital of Fujian Province in the East China, on April 26.

An e-CNY pioneer
In November 2019, Shenzhen became one of the first four regions in the country to test the use of e-CNY, along with Suzhou in East China's Jiangsu Province, Xiong'an in North China's Hebei Province and Chengdu, capital of Southwest China's Sichuan Province.
A year later, Shenzhen and PBOC jointly issued e-CNY coupons via lottery to spur consumption at stores in Luohu District. The pilot program distributed a total of 50,000 digital "red packets" — gift envelopes traditionally given out during holidays and special occasions — containing 200 yuan each. It was the first time digital yuan had been introduced to the public, which has since won citizens' recognition for its convenience, efficiency and security.
In 2022, the city spent 570 million yuan holding a total of 73 activities to promote e-CNY.
"Using e-CNY to spur consumption is more like a drill for use of digital yuan in all scenarios. Such events benefit more people with discounts, being a good incentive for people to know more about e-CNY and to use it in daily life," said an employee with a bank involved in the promotion.
Wide use of e-CNY
Shenzhen has set many firsts in piloting the digital fiat currency payment.
The country's first prepaid e-CNY platform was set up in Shenzhen in May 2022. Linking more than 200 companies, the platform was first experimented in education and training institutions, gyms, and beauty and hair salons. It helps protect consumers' legal rights and minimize their risk in prepaid capital loss because the fund is supervised through smart contracts and is unalterable. Prepaid card-based consumption is a popular model in many industries, but refunds and compensation are usually difficult through conventional payment methods if the services are terminated due to various reasons.
Through this novel channel, consumers' payments will be frozen in their digital wallets and they will automatically pay an amount of money each time the service is provided under a contract. For example, in the pilot applications in the education industry, participating training schools can receive a payment every time they give a lesson. If the service providers fail to continue the service due to their own reasons, consumers can apply for a rapid refund of prepaid money.
Thus far, the city has launched two similar platforms that now have a total of 12,142 users, including 142 educational institutions and 12,000 individual consumers.
Shenzhen also launched the nation's first digital hardware wallet based on 5G blockchain technology.
Shenzhen keeps pushing for e-CNY's wider use. By the end of 2022, e-CNY application scenarios had been expanded to cover retail, catering, public transport, health care and public services.
"The piloting of the digital yuan has achieved a number of firsts in Shenzhen thanks to the city's strong innovation capabilities. The city is home to many high-tech firms, such as Huawei and Tencent, which can provide better technical support for digital yuan innovation," said Yu Lingqu with China Development Institute (Shenzhen).
Cross-border innovation
On Feb. 22, the country's first self-service machine for the issuance of e-CNY wallet cards was put into use at Luohu Checkpoint. Over 1,390 Hong Kong residents had obtained such cards as of March 5.
"I used to pay in cash in Shenzhen because I can't use Alipay or WeChat as I don't have a local bank card and the two apps require users to bind to a bank card to top up," Julia Tsang from Hong Kong said. "The e-CNY card makes everything much easier."
"RMB has been the largest cross-border settlement currency between Shenzhen and Hong Kong for three consecutive years, providing Shenzhen with a good opportunity to promote the internationalization of e-CNY," Yu said.
He said, however, there's room for improvement of digital yuan applied technology.
"Shenzhen should take advantage of its reigning edge in blockchain, AI and big data to continuously innovate the application of e-CNY," Yu said.
"In addition, the current application scenarios of digital yuan mainly focuses on consumption. I think Shenzhen can explore new application scenarios in financial transactions and foreign trade."