Video by Xu Shuntian
On Jan. 29, the Shenzhen government held a meeting highlighting high-quality development, demonstrating the city's resolution and swiftness to take the lead in pursuing the new path China will take towards a modernized future.
In the eyes of Park Young-joon from South Korea, associate dean and teaching associate professor of economics at Peking University HSBC Business School (PHBS), prioritizing high-quality growth is a "great and timely" initiative in the post-pandemic era.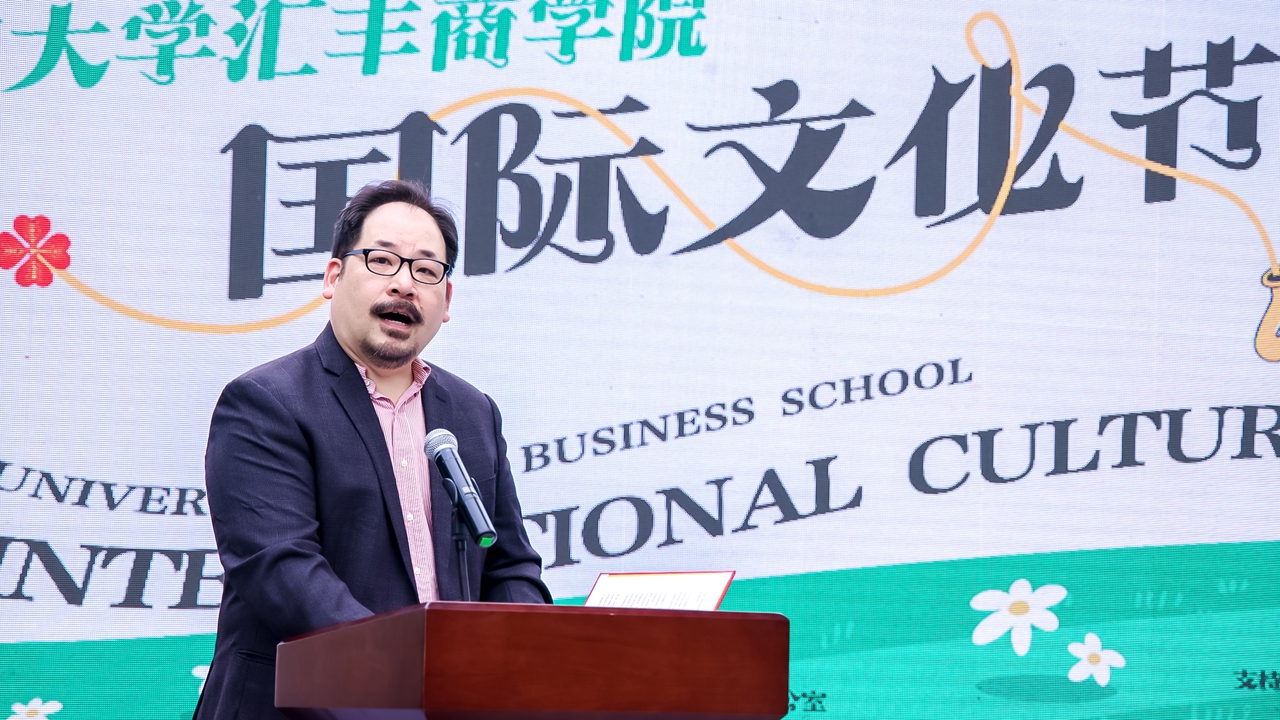 Park Young-joon speaks during the International Culture Festival of the Peking University HSBC Business School (PHBS) in this photo taken in April. Photos courtesy of PHBS

"This is really the time for Shenzhen, Guangdong, or the whole country to take a new leap forward for greater development," Park said during an exclusive interview with Shenzhen Daily.
On March 13, Park, along with 48 other expats, received the first Guangdong Friendship Award for their outstanding contributions to Guangdong's development and international exchanges. Park was one of the eight honorees from Shenzhen.
The award, established by the Guangdong Provincial Government, is the province's highest honor given to foreign experts.
To achieve high quality development, Park suggests the government should seek more allies to conduct more people-to-people exchanges in business and academic circles for mutually beneficial international collaboration.
"Given the current [international] political uncertainty, the government should seek international partners at individual, academic and business levels to pursue mutual benefits," Park said, adding that foreign experts in China like him would be "very happy" to work with the government to seek better development in any potential area.
Committed to PHBS' international drive
Park joined PHBS in 2009 after earning his Ph.D. in economics from the University of California. He was among the first foreign faculty members of PHBS, and is by far the longest-serving foreign faculty member at the school. Located at the University Town in Xili, Nanshan District, PHBS was founded in 2004 to bring Peking University's historical presence and first-tier business education programs to South China.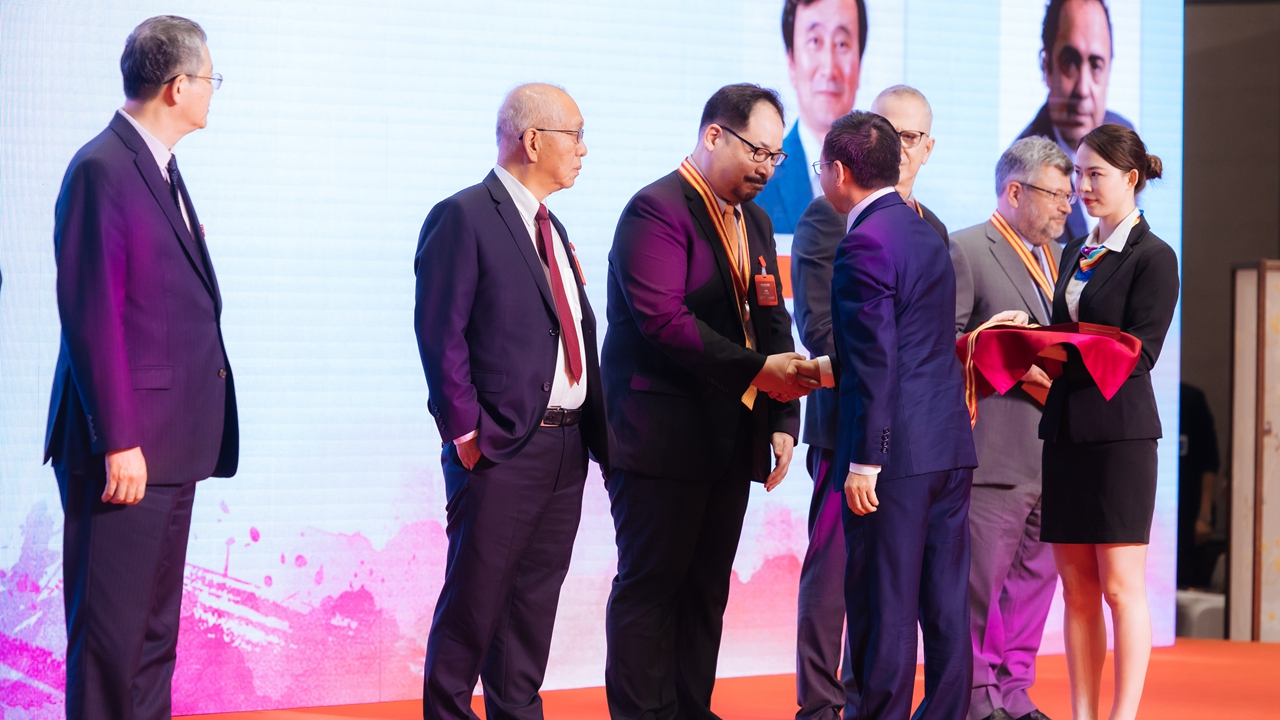 Park (3rd L) receives his Guangdong Friendship Award at a ceremony in Guangzhou.

Park has played multiple roles in teaching, academics and administration. He is currently responsible for the school's international cooperation. Park said he enjoys interacting with different people the most in his work. "It's a very exciting experience teaching and interacting with my students on their research and thesis, helping international students settle and learn from different cultures."
Park added that with the reopening of borders, he is looking forward to going abroad to seek potential collaborations with international partners. Park mentioned that there would be more academic exchanges at PHBS' U.K. campus in Oxfordshire. In the coming months, he will visit the campus to celebrate the fifth anniversary of its opening and attend international conferences.
Witnessing SZ's transformation
"When I first came to Shenzhen and when my friends asked me about the city, I could only say that there are certain areas that are highly developed. But now, I can very easily say that this is perhaps one of the most developed cities in the world," he said.
According to Park, the 2011 Summer Universiade was one of the earlier main driving forces for the city's development and urbanization.
Another major transformation in Shenzhen that Park noticed was the shift of main industries from manufacturing or transportation to high-tech industries and more focus on entrepreneurship.
In this regard, Park noted that business schools like PHBS can contribute to society through sharing ideas and knowledge spillover. "Our school has many students in various degree programs. We are trying to listen more from the students and industry professionals to see where the problems arise and where we can find a solution," he said.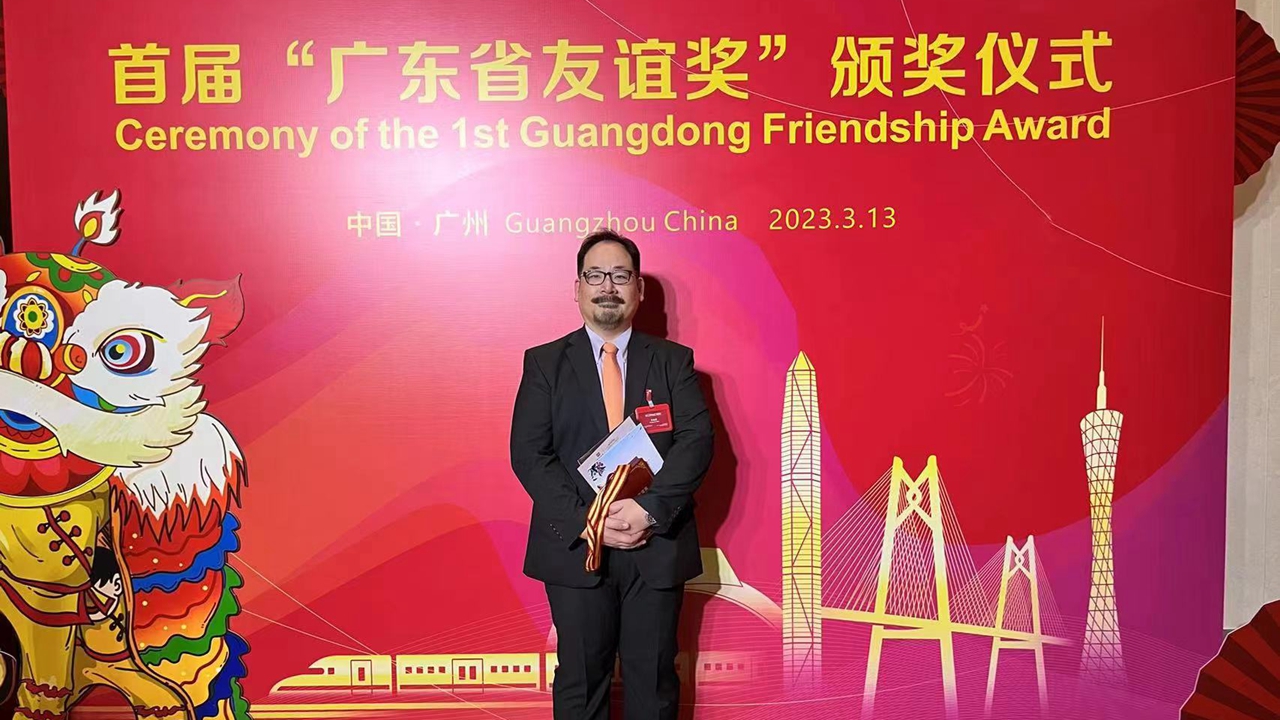 Park poses for a photo with his Guangdong Friendship Award certificate at the award ceremony in Guangzhou in this March 13 photo.

New way to cooperate with foreign investors
The 2023 Chinese Government Work Report has stressed efforts to attract and utilize foreign investment.
In Park's opinion, due to the systematic change of China's economic situation, many foreign companies are seeing the country in a slightly different way. Accordingly, China should seek a different way to collaborate with foreign investors.
"In the past, the more general idea about opening a business or investing in China is to take advantage of its cheap labor. That's not the case anymore. Therefore, I think the government as well as the general public should be well aware [of this] and seek a different way of collaboration with foreign investors," Park explained, adding that the government should make things easier for foreign investors to come and open a new branch or even a new business in China.
"It's also very important to make things easier and simpler for foreign talents to settle and stay here."
The professor is confident about the Chinese market and calls for potential international partners' attention to the Chinese market. "The Chinese market is strong in terms of its purchasing power. For international partners who might have not considered China as a partner, now is the time for them to look again because the Chinese market has changed from a cheap labor provider to a high-tech, high-quality product manufacturer," he said.
Well-designed city
Having been working and living in Shenzhen for 13 years, Park maintains a simple daily routine from office to home. The South Korean likes Shenzhen as a well-designed city with straight roads and clean environment.
He also appreciated the fact that when the city was planned, the planner kept in mind that they had to keep a good portion of green areas.
"We have a lot of parks and mountains where you can enjoy nature. On the university campus, I can enjoy the views of Dasha River every day on my way to work," he said.