Each week when I open a private outdoor group chat in WeChat, I can always see netizens in the group asking if there are any hiking activities organized in Shenzhen on weekends.
If you happen to live in Shenzhen, you will not be surprised to notice that more and more greenways have been built in urban spaces over the past few years.
Currently, Shenzhen has built 3,119 kilometers of greenways and walking trails with many linked to public parks. More parks and greenways will be connected in the future, according to a press briefing on the city's urban park construction plan (2022 to 2024) held this April.
A growing number of citizens have now embraced greenways not only as a way to get close to nature but also as an essential lifestyle choice.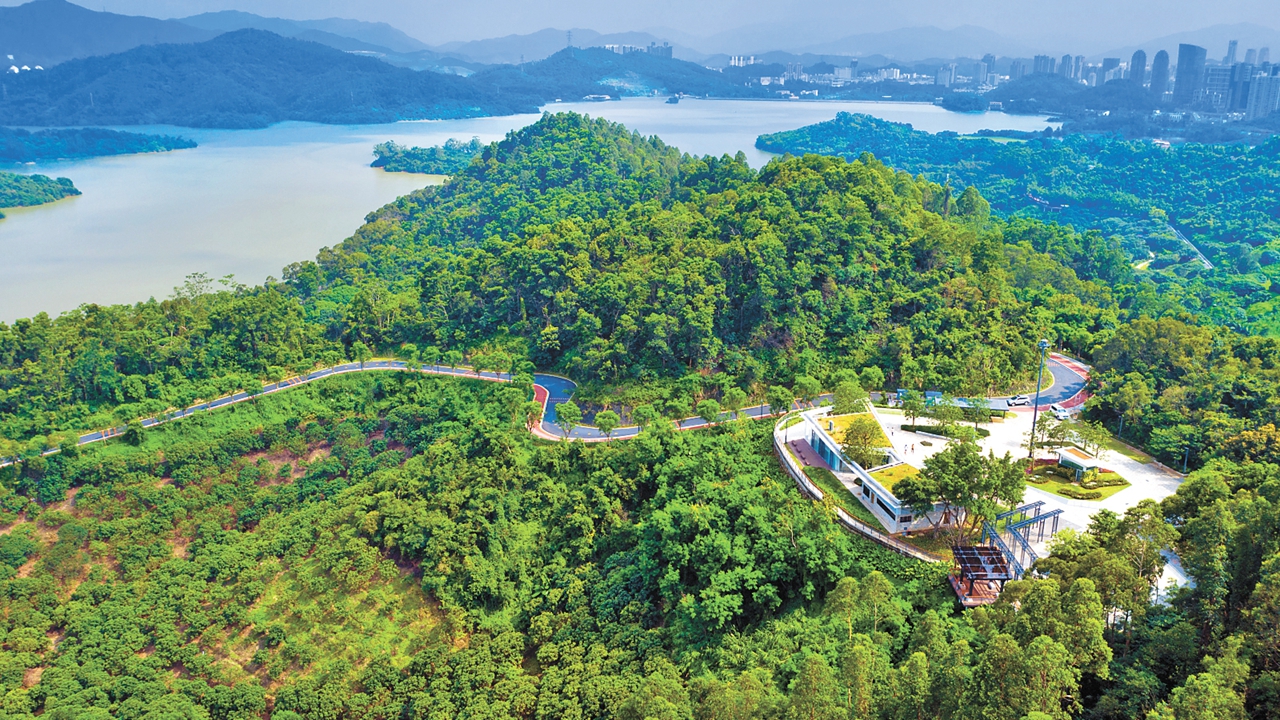 An overview of the Taojinshan Greenway in Luohu District, which starts at the Cuihu community park, passes Buxin Hill and ends at Shawan Road, extending as long as 7.07 kilometers. Sitting along the west side of Shenzhen Reservoir, the greenway has 13 scenic spots for residents to enjoy natural landscapes and three stops for resting. Courtesy of the city's urban management authority

Greenway hiking, antidote to fast-paced life
"The first thing I can always think of doing on weekends is greenway hiking. It is very essential to me as I really need it to refresh my mind and also my body so that I could have energy and motivation to start my work in the coming week," a citizen surnamed Guo told Shenzhen Daily in a recent interview.
Guo is one of the key members in the outdoor WeChat group, who also organizes some trekking activities during weekends. "It is good to have more people hiking together and I also made some friends through this kind of activity," Guo added.
Like Guo, there are also people seeking friends on the Chinese social app Xiaohongshu, with trekking routes and time provided. You can also find posts offering tips on greenways and hiking trails in Shenzhen on the platform.
Even those who are not outdoor enthusiasts can find fun in hiking greenways. "The first time I tried hiking was by invitation. On that day, I walked about 30,000 steps, according to my phone's step counter app, and it gave me a strong sense of achievement," said a citizen surnamed Zhou, adding that she would do it again if she goes together with friends.
Beatriz Lopez from Mexico, who is living in Shenzhen, also believed that albeit Shenzhen is a fast-paced city, people could still live a relaxed life with well-built greenways.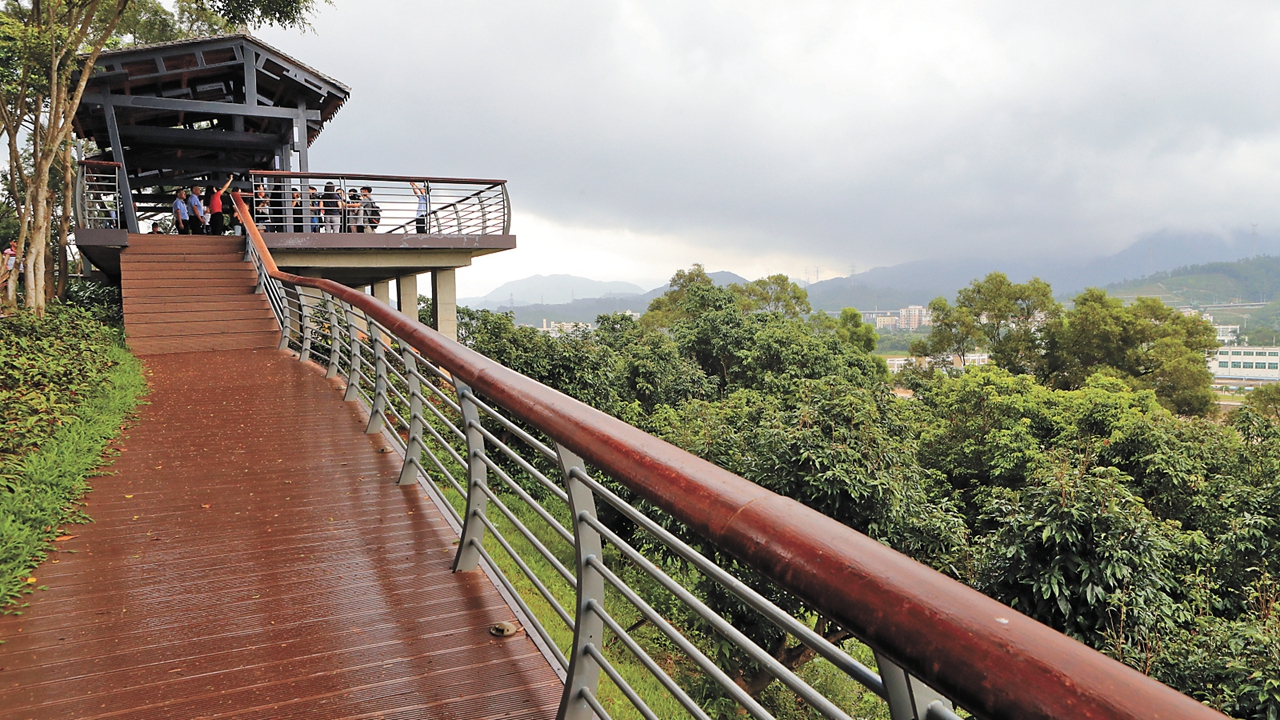 People hiking in Taojinshan Greenway pose a group photo.

Diverse trails enjoyed by all
One of the greatest things about Shenzhen's greenway system is that it offers various kinds of trails with beautiful natural and urban landscapes. Anyone can find a trail that suits them whether it is a handmade trail, a walking trail around a reservoir, or others.
During this May Day holiday, I decided to go out for a little walk and chose Xiangsilin Park near Yinhu Reservoir in Luohu District. There is a double-decked trail surrounding the reservoir. Not far away from the trail at the southwest of the reservoir, you can find the entrance to Xiangsilin Park. After an uphill walking trail, there is a big lawn where people can camp and picnic, with playing facilities available.
The park's trails are very friendly to people like me who are not a sports lover. Another trekking route option I recommend for a leisurely walk is the greeway near Meilin Reservoir in Futian District, where you can breathe fresh air and enjoy the green scenery.
According to a draft plan (2022-2025) on the city's hiking trails released by the city's urban administration and law enforcement bureau in January, Shenzhen is planning to build a hiking system containing 1,000-kilometer trails that will run through eastern and western Shenzhen.
The trails will also be classified into different themes according to their features and functions, like trails for parent-child leisure, cultural tracing and nature exploration.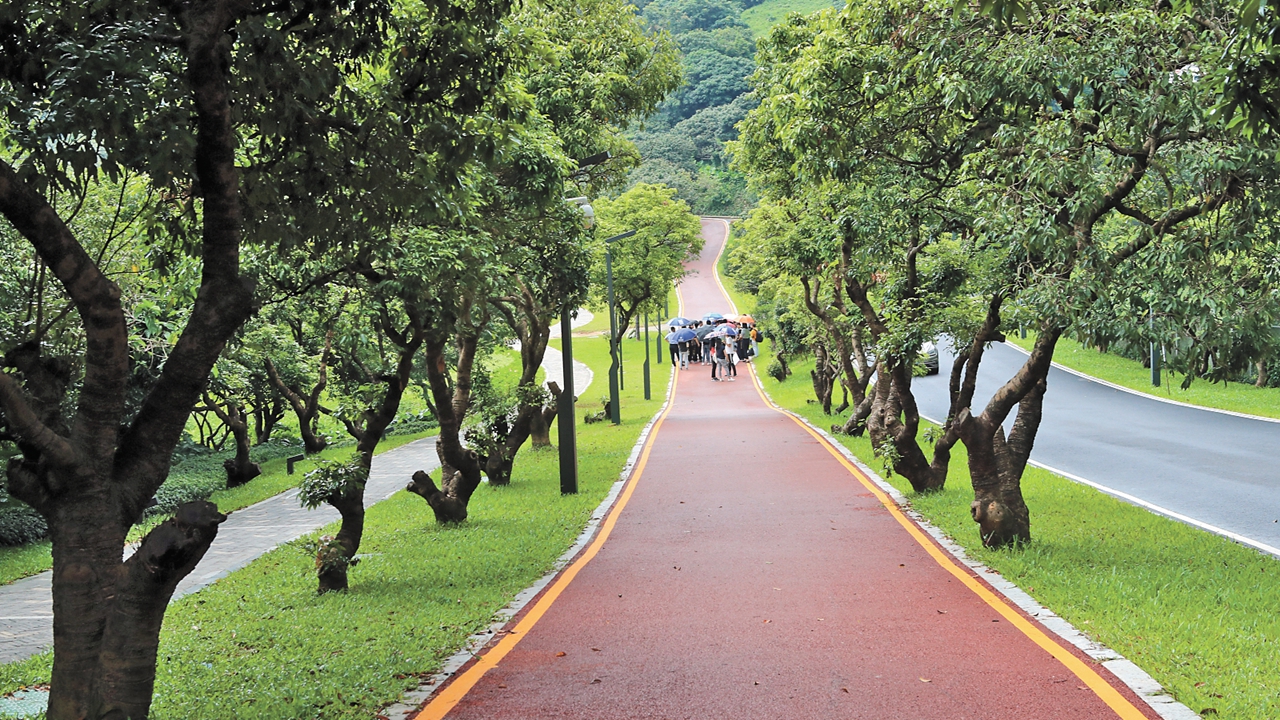 Residents enjoy natural landscapes of the Taojinshan Greenway.

Connecting people, nature
Over the years, Shenzhen has been working on building a more livable and beautiful Shenzhen with a better eco-environment and becoming a model city where man and nature coexist in harmony.
Simon Collins, former dean of the School of Fashion at Parsons School of Design in New York, commended the city's efforts to combine parks with shopping malls via trails and corridors while attending this year's Shenzhen Design Week.
"I was walking around Shenzhen and enjoying the way that parks are being expanded and linked to shopping centers so that people can actually enjoy trees… I want to see better shops with trees. I want the quality of life to be improved, and that's what design can do," Collins added.
This year's Shenzhen Design Week also set up an outdoor exhibition called Mountain-Sea-City Integration Urban Design Corridor at the Bay Opera of Shenzhen in Bao'an District, the main venue of the event, to convey how design and ecology can complement each other.
"Designs are combined with urban ecology, and I think this exhibition is very meaningful," a citizen surnamed Weng said.