On a cool rainy afternoon, Liang Quan's refreshing "Green" exhibition opened at Pingshan Art Museum, bringing a sense of freshness, peace and nostalgia.
Even if viewers may not understand Liang's abstract paintings, they could still be enthralled by the verdant green color in some of the paintings against the backdrop of clean white walls. The 75-year-old artist wrote in his curatorial statement that as he turns old, he often thinks of the winding mountain road he took when he was young, the green lush mountains on the banks of a clear stream, the rafts floating along the water and the crisp sound of bamboo poles hitting pebbles on the riverbed. He attempts to convey his past feelings in the tranquil world in mountains in his paintings.
Liang Quan speaks at the opening of his "Green" exhibition at Pingshan Art Museum on May 14.

At a talk before the exhibition's opening Sunday afternoon, Liang recalled that when he was young and worked for a small cultural organization in Jingning County, Zhejiang Province, apart from creating publicity paintings, he also created a large number of oil paintings he was interested in during his spare time, which was an unforgettable youth memory.
"I never went back to the place that I worked because my friends told me it had changed a lot, and all the things I remember were either demolished or altered. There used to be a saying that 'tomorrow will be better' and I think so," said Liang, adding that the new paintings at the exhibition were created in the past two years.
"The pandemic forced me to calm down, and I encountered many unhappy things. But when I recall this period, I feel that there were also interesting things. Now it is quite interesting to reflect my past experiences in the paintings," said Liang.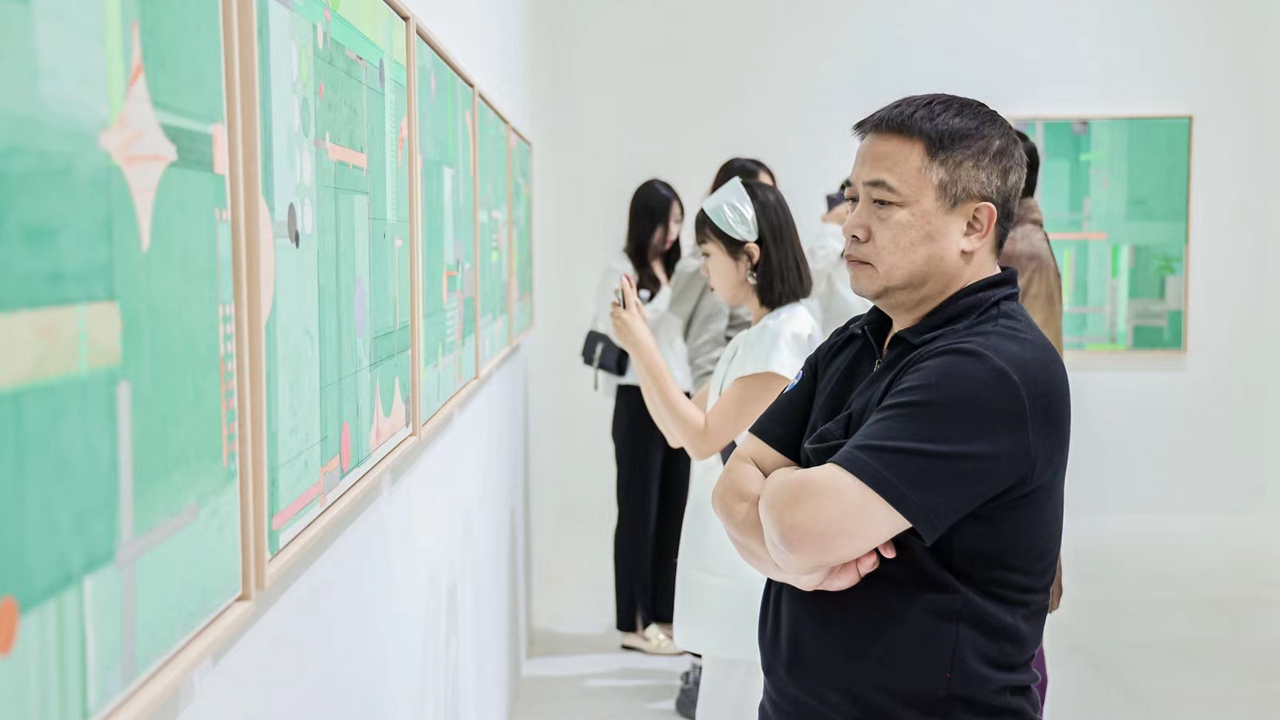 Liang Quan introduces his works at the opening of the exhibition.

"The green color in Liang's paintings reminds me of various shades of spring greenery in the Yangtze River Delta region, such as the green Longjing tea and grass by riversides and pathways. In addition, Liang's paintings named after places such as Jingning and Shawan remind me of the winding paths, clear streams and river crossings that Liang experienced in his younger days in Zhejiang," said artist Xue Feng at the talk.
"Liang's 'Green' series makes me feel that he has integrated his nostalgia into his art creations. He fused many stories, details and scenes into his works. Although the paintings are abstract, they reflect his artistic features and unique style. These works were created during the pandemic, as Liang faced the green hills and clear water outside his balcony, forming a special resonance with his experiences in his youth," said Liu Xiaodu, director of Pingshan Art Museum.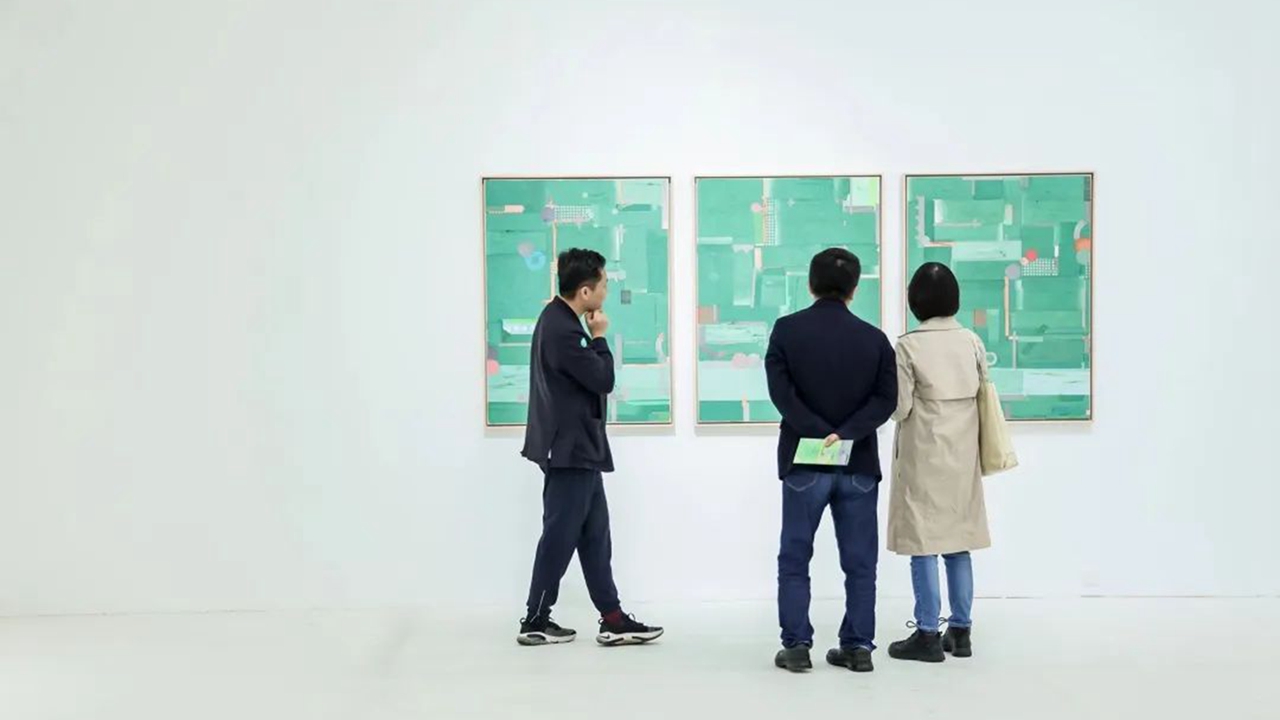 Visitors observe Liang Quan's paintings at the exhibition.

Liang is best known for combining traditional Chinese ink painting with abstract expression, forming his unique blend of Eastern and Western aesthetic languages. He usually collages pieces of rice paper, juxtaposing abstract color blocks and figurative details. While his geometric paintings may evoke the canvases of Richard Diebenkorn, Liang masterfully sets himself apart as he involves more visual elements that generate complex spatial relationships, more emphasis on memories and emotions associated with a space.
Born in 1948, Liang studied at the affiliated high school of Zhejiang Academy of Arts (now China Academy of Art) in Hangzhou. He later pursued his postgraduate study at the San Francisco Art Institute in the United States. He returned to China in 1984 to teach at the Zhejiang Academy of Arts, where he remained for 10 years before moving to Shenzhen to work at Shenzhen Fine Art Institute. Regarded as one of China's most important contemporary abstract artists, he has exhibited works widely in China and abroad.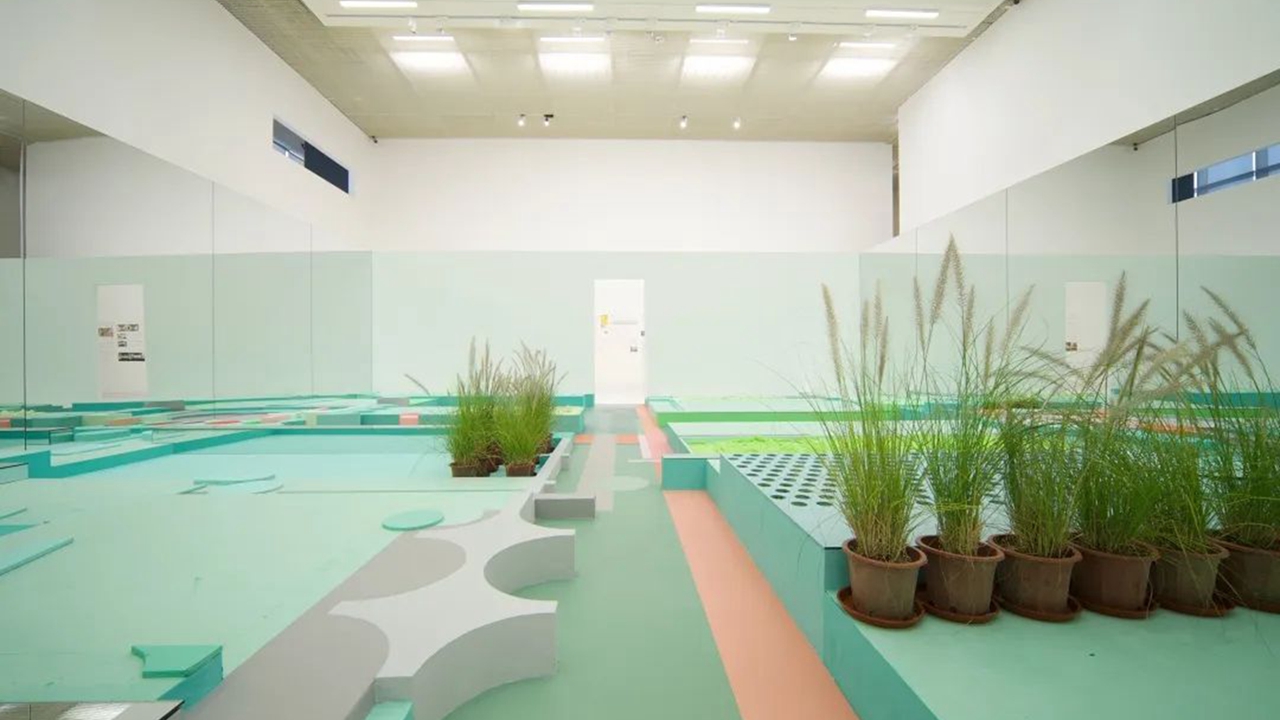 Scenes at the exhibition.

Liang's current exhibition is the eighth and last exhibition of Pingshan Art Museum's "Shenzhen Contemporary Artists Series" which has showcased works by Xue Feng, Zhou Li, Shen Shaomin, Wang Chuan and Jiang Zhi from 2021 through 2023. Li Liao's "The Wife Went to Start a Business" and Yan Shanchun's "Fuchun" exhibitions are currently being staged along with Liang's exhibition. The closing dates of the three exhibitions haven't yet been announced.
Since its opening in 2019, the Pingshan Art Museum has been focusing on contemporary art and local art. Its "Shenzhen Contemporary Artists Series" was launched based on the current situation and development of contemporary art in Shenzhen, expecting to fuel the progress of contemporary art in Shenzhen and in the Guangdong-Hong Kong-Macao Greater Bay Area.
Hours: 9 a.m.-5 p.m., closed Mondays
Venue: Pingshan Art Museum, Pingshan District (坪山美术馆)
Metro: Line 14 to Pingshan Square Station (坪山广场站), Exit D1