Being an eye surgeon is challenging and demanding, as it entails dealing in terms of millimeters in microsurgery and having to be extremely precise.
On the flip side though, being an eye surgeon also comes with the gratification of providing a life-changing service for the patients and offering dramatic changes to improve their vision. And this is what Dr. Kapil Bhatia and Dr. Manju Meena Bhatia, two ophthalmologists from India, identify with.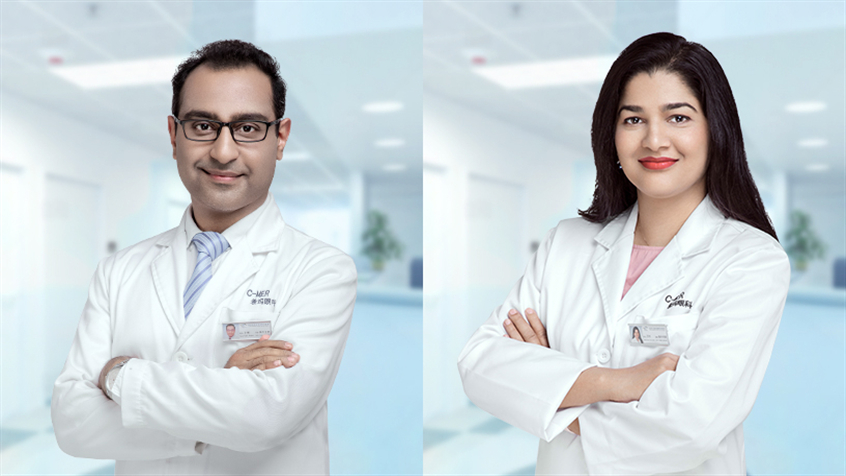 Dr. Kapil Bhatia and Dr. Manju Meena Bhatia. Photos courtesy of the interviewees
The couple, who has worked in famous ophthalmic institutions in India and Australia, decided to move to Shenzhen and joined C-MER (Shenzhen) Dennis Lam Eye Hospital in June, 2019, in the hopes of working with reputable colleagues with experience, all while enjoying a new culture.
"We had some friends who already worked in this hospital before. They gave us a very good review of the hospital, culture as well as the city. That's what motivated us to move here with a small baby," said Dr. Manju Meena Bhatia.
Specifically, Dr. Manju Meena Bhatia is an oculoplastic surgeon who specializes in plastic surgery around the eyes and eye tumors; while Dr. Kapil Bhatia is an eye specialist whose areas of interest are diabetic retinopathy, vision degeneration in people of advanced age and retinal detachment.
"For me, all the cases are new because every patient is different. It's not something monotonous like seeing the same patient or prescribing glasses," said Dr. Manju Meena Bhatia, when talking about her profession.
The biggest motivation, according to her, is to help patients restore vision. "The best thing is that you can give the gift of sight to someone who is not able to see. And you can always give back to the society."
"Back in India when we were there, we not only did a corporate job, but also went to rural places reaching those people who couldn't afford the treatment," said Dr. Kapil Bhatia. "I feel really grateful that God has given me this opportunity to take care of the poor and needy."
According to the couple, they had both participated in the "Lifeline Express" program to offer free-of-cost treatment to patients with eye problems in India. Lifeline Express is a hospital train that travels all over rural India as part of free medical treatment to the neglected poor.
As to some common misconceptions about ophthalmologists, Dr. Manju Meena Bhatia said that some people might believe that doctors are here to make money and charge patients high rates.
"Generally we don't work for money; otherwise we would've gone to some other profession which earn more money. We took up medicine to cure people and that's the main motive of this profession," she said.
Having lived in Shenzhen for nearly a year, the couple is impressed by the city's urban landscape, convenient transportation, inclusive culture, helpful people, and, notably, excellent medical resources.
"We've worked in India and Australia and also been to the U.S. for observation. Now we are in China. I can safely say that infrastructure here is as good as any of the best cities in the world. And as Manju has said, the medical resources are as good as those of Western countries," said Dr. Kapil Bhatia.