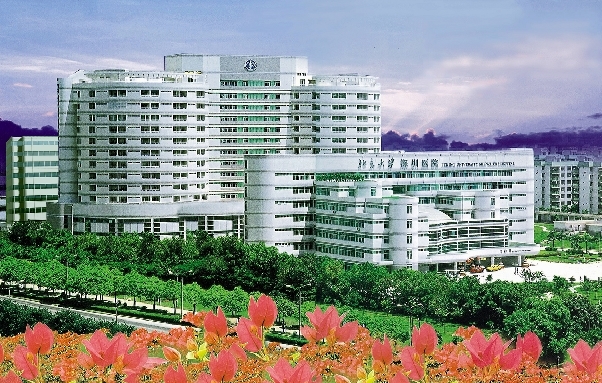 Peking University Shenzhen Hospital was named Shenzhen Central Hospital when it was opened in 1999. It was renamed as Peking University Shenzhen Hospital and Peking University Shenzhen Clinical Medical College after the cooperation with Peking University in September 2001. Currently, the hospital has investments from the Shenzhen government totaling 450 million RMB. The total asset is worth about 930 million RMB, with the medical equipment worth more than 400 million RMB.
The hospital buildings cover 108, 000 square meters, spread over an area of 59, 000 square meters. Currently, the hospital starts a second phase expansion, including the new, state-of-the-art surgical building. The total construction area of the hospital will increase to 211,000 square meters, a total of 1,600 beds.
There are 2112 staff members, including 681 professors and associate professors. 535 staffs hold master and doctor degree, and 112 staffs have experience of training abroad.
Peking University Shenzhen Hospital is the leading academic hospital in the fast growing Guangdong province of southern China. Shenzhen hospital has 925 inpatient beds, 52 clinical departments, including 1 national key department, 8 provincial key departments, 8 municipal key departments and laboratories. The hospital supplies outstanding services for the local Shenzhen population, and also attracts patient from Hong Kong, Macao, and 36 countries and regions around the world. In 2014, there were 2.95 millions outpatient visits, 49, 800 inpatient admissions, and 30, 000 surgical procedures.
As a teaching hospital, Peking University Shenzhen Hospital Medical Clinical College includes 23 departments of medical education including Internal Medicine, Surgery, Obstetrics and Gynecology, Pediatrics. There are also 27 educational groups including General Surgery, Urologic Surgery, Digestive Diseases and Endocrinology. The hospital educates more than 50 interns from Peking University including undergraduate and postgraduate students, and more than 100 trainees and students from other universities in China and abroad for advanced training every year. Shenzhen hospital has an established post-doctoral program, with five doctoral programs and 37 postgraduate Master's Degree programs annually.
The hospital is leading more than 10 research projects from WHO and the National Natural Science Foundation, and more than 630 projects from the provincial government and the municipal government. 13 research projects were awarded national awards from the Chinese government and 9 technical inventions have been submitted for national patents.
The hospital has close cooperation with Peking University, Hong Kong University of Science and Technology, and hospitals and universities in the USA, Europe, and Japan. Shenzhen Hospital has established sister relationships with the Tokyo Institute of Cancer Research, Houston Medical Center, Medical Center of University of Washington, Medical Center of California University at San Francisco, Cleveland Clinic, Nice Hospital and the Health Ministry of France.
Shenzhen Hospital is a leader of medical innovation in the booming southern provinces of China, setting new standards of research and medical care, improving well-being of the local population and treatment for patient from all over the world.
Address: No. 1120, Lianhua Road, Futian District, Shenzhen 广东省深圳市福田区莲花路1120号
Tel: 0755-83923333
Click here to visit the official website of the hospital.