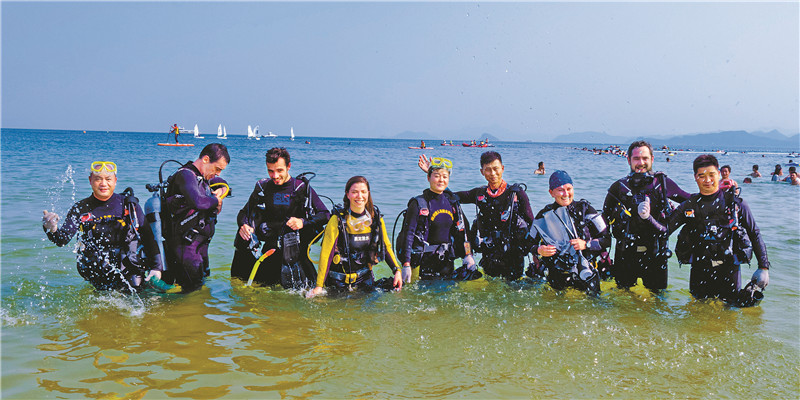 Email of the writer: there_sun@163.com
ABOUT 2,000 people, including more than 30 foreign divers and volunteers, took part in the 13th annual Shenzhen International Coastal Cleanup yesterday to mark International Coastal Cleanup (ICC) Day.
In response to the call from Ocean Conservancy and Project Aware, two global ocean environmental protection organizations, the 13th "Sea the future" Shenzhen International Coastal Cleanup was held on 29 beaches and coastlines in Shenzhen, of which Dameisha beach was the main venue, with a total coast length of nearly 260 km.
Turnout was bigger this year and foreign volunteers participated in the event for the first time, leaving Xiao Lijin, deputy secretary-general of Shenzhen Blue Ocean Conservation Association (BOCA), optimistic about the protection of Shenzhen's ocean environment.
To better clean the ocean, volunteers cleared away garbage from the beaches, while some took boats out to collect garbage at sea, and some traveled along the coastline picking up garbage.
Apart from an underwater robot, an astounding 50 scuba divers, including six expats, went to clean the ocean floor.
"It's good for us to show the world how badly we are polluting it," said Leigh Grindley-ferris, who is from South America and is a veteran diver with eight years' experience. "As China has the biggest population in the world, the more Chinese are aware of ocean pollution, the better for the world."
"The event is not about how much we've collected," said Italian diving enthusiast Michela Cpozza, adding that she hopes people will be more careful and protect the ocean after seeing their actions. "It's not you are not from here that you shouldn't help," said Irish diving lover Darragh Hudson, calling on everybody to keep our ocean clean.
In order to arouse the public's awareness of protecting public beaches and Shenzhen's environment, various leisure events were held, including the DADA mermaid performance, painting of a 260-meter scroll, marine science popularization, a bazaar and a garbage for treasure activity. The event was also streamed live on the Internet so those who were interested could watch.
Mermaid performer Dada Li, who has joined the events as a diver before, showed up dressed as a beautiful mermaid to better promote ocean protection. Having participated for four years, Dada Li was surprised to see more and more Shenzheners taking action year by year.
The event was organized by BOCA, with guidance from the Shenzhen Municipality Oceanic Administration and Yantian District Government.