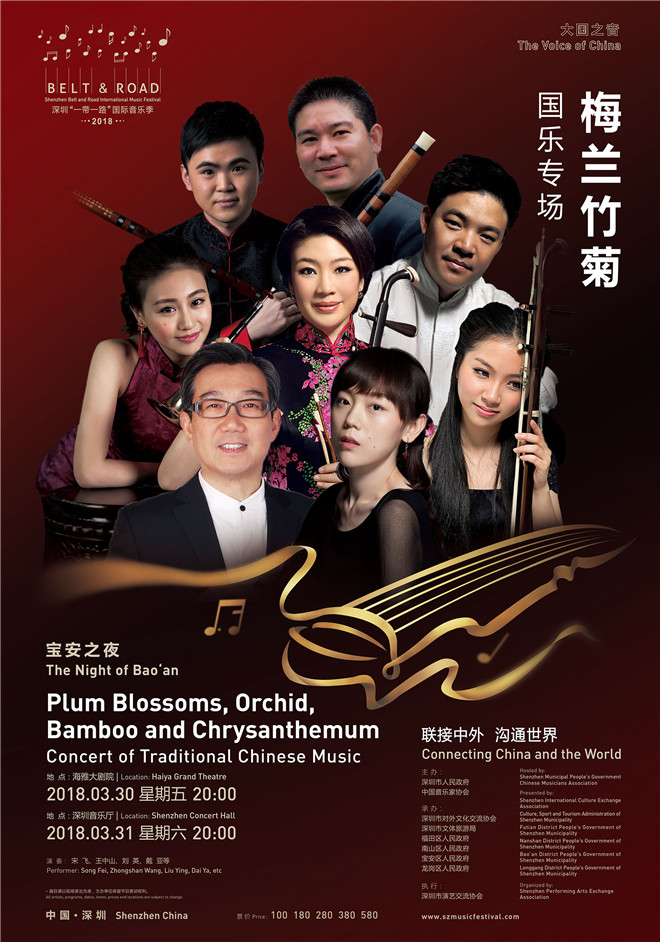 Email of the writer: 13823397326@139.com
Traditional Chinese music is a key component of the ongoing 2018 Belt & Road Shenzhen International Music Festival, and one of the most anticipated performances during the festival is a concert brought by four masters of traditional Chinese music and their students.
Two traditional Chinese music concerts, themed "Plum Blossoms," "Orchid," "Bamboo" and "Chrysanthemum," will take place this Friday and Saturday at Haiya Grand Theater and Shenzhen Concert Hall.
These concerts will feature a variety of traditional instruments that represent the most authentic of Chinese music. Solos will be played on four instruments, namely the bamboo flute, guzheng (zither), suona and erhu.
In Chinese culture, plum blossoms, orchid, bamboo and chrysanthemum represent the four fine gentlemen's qualities, which are pride, peace, integrity and reservedness.
The four music masters, together with their best students, are going to showcase the highest level of traditional Chinese music at the concerts.
Song Fei is a prominent erhu player, professor and a State-level first-class actress. She is also a post-graduate tutor and doctoral supervisor.
Hailed as the "Chinese erhu queen," Song has won many prizes in various erhu competitions as well as many awards in recording and publication fields. In recent years, she has performed solo concerts all over the world and released a large number of recordings. Song is bringing one of her best students, Huang Xiaoqing, with her to perform at the two concerts in Shenzhen.
The renowned master of guzheng, Wang Zhongshan, has been performing in Shenzhen on a frequent basis. He is currently a professor at China Conservatory of Music and also teaches as a guest professor at a number of universities in China.
With music that is delicate, greatly eloquent, melodious and bright, Wang is a master at expressing rational thought by auditory means. He is celebrated as a great zither master and a leading Chinese ancient zither player.
Wang's student, Song Xinxin, who is also teaching at China Conservatory of Music, is going to perform three pieces at each concert on this weekend.
Dai Ya is widely known for his dexterity on the bamboo flute, producing notes in strong and graceful ways that make his music very impressive and infectious, gaining him a reputation as "the flute king of Beijing."
One of Dai's elite students, a young bamboo flute player Li Yue, will perform alongside the flute master.
Suona musician Liu Ying is also going to grace the stage in Shenzhen. Suona is a unique Chinese instrument for folk music and is widely played in North China. Liu's famed youth suona student Zhang Qianyuan will also perform this week.
The concert will feature 13 pieces performed in diversified forms, including solos and ensembles. It will feature a combination of both classical and traditional Chinese folk music like "A Flower," "Birds Saluting the Phoenix" and "Lagua" as well as new repertoires composed more recently.
Other players of Chinese traditional music instruments like the sheng, pipa, percussion, and yangqin will fill-out the concert, making it rich and colorful.
(Story translated by Zhang Qian)
Plum Blossoms, Orchid, Bamboo and Chrysanthemum — Concert of Traditional Chinese Music
Time: 8 p.m., Friday, March 30
Venue: Bao'an Haiya Theater, 3/F, Haiya Mega Mall, 99 Jian'an Road 1, Xin'an Subdistrict, Bao'an District (宝安区新安街道建安一路99号海雅缤纷城3楼)
Metro: Line 5 to Lingzhi Station (灵芝站), Exit D2
Time: 8 p.m. Saturday, March 31
Venue: Shenzhen Concert Hall, intersection of Hongli Road and Yitian Road, Futian District (福田区红荔路和益田路交汇处深圳音乐厅)
Metro: Line 3 or 4 to Children's Palace Station (少年宫站), Exit D