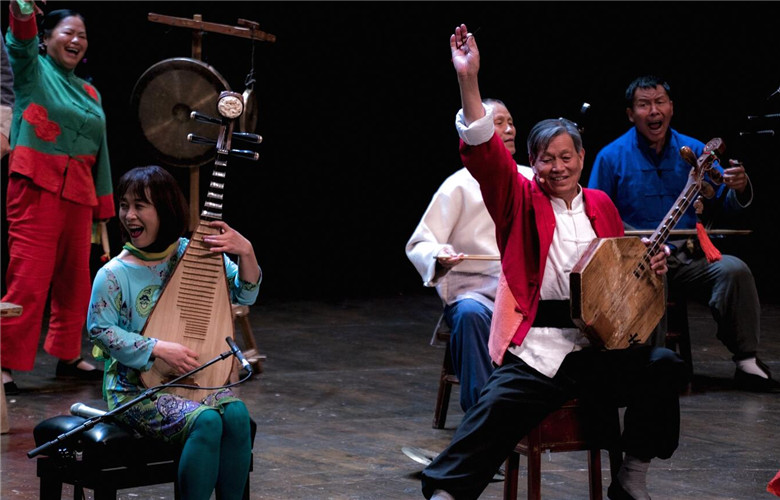 Email of the writer: yangmei_szdaily@163.com
At the ongoing Shenzhen Belt and Road International Music Festival, the concert, "The Ancient Echo — Wu Man, the Silk Road Musicians and the Huayin Shadow Puppet," which was held at the Shenzhen Concert Hall on March 30, was probably the performance that was most pertinent to the theme of the music festival, for it delivered music true to its original traditional form from countries along the ancient Silk Road.
Recognized as the world's premier pipa virtuoso and leading "ambassador" of Chinese music, Wu Man has carved out a career as a soloist, educator and composer, giving her lute-like instrument — which has a history of over 2,000 years in China — a new place in both traditional and contemporary music. She has been nominated for best performance and best world album Grammys, and the Boston Globe praised her as "one of the handful of performers who has changed the history of the instruments they play."
In the first half of the show, Wu was accompanied by Uygur singer Senuber Tursun, Tajik Dutar master Sirojiddin Juraev and Italian Tamburello master Andrea Piccioni in a performance of famous folk songs including "Joyous Pamirs," "A Song of Kazakhstan" and "Give You a Rose." Wu also played solo pieces "Dance of the Yi People" and "Sanliu." The colorful performance received a rousing round of applause from the audience.
As a matter of fact, Wu and the three accompanying musicians are old friends, and they first collaborated over 10 years ago on an album called "Wu Man and Master Musicians From the Silk Road." In 2017, they had a 10-city tour across China. This time, Wu invited them to Shenzhen in a bid to introduce the central Asian music to southern audiences. "The music we're going to play is true to the ancient Silk Road, echoing the theme of the music festival," Wu said.
According to Wu, "Different musical instruments have different personalities." If the first half of the concert conveyed an image of a pretty lady dancing to gentle and lyrical tunes, the second half was a group of rock 'n' roll band members gleefully shouting and banging their way on primitive instruments.
The figurative "rock 'n' roll band" was embodied in the Huayin Shadow Puppet band, which rose to fame after being invited to perform at the CCTV Spring Festival Gala in 2016. Formerly known as the Zhang Family Band, the group shoulders a centuries-old tradition of blending music with drama and Chinese shadow puppetry.
The band of 11 joined Wu in the second half of the show and presented classical pieces including "Ancient Song of Central Shaanxi Plain," "The Charm of the Han Dynasty," and "General's Orders Rock the Mountains and Rivers." The raucous and primitive style of the performance was well received and won thunderous cheers from the audience.
Their segment ended with a shadow puppet show called "Three Heroes Fighting Against Lyubu" that was adapted from the "Romance of the Three Kingdoms," a masterpiece by Luo Guanzhong of the Ming Dynasty (1368-1644). The shadow puppet show was accompanied by Wu on pipa.
Long before Huayin Laoqiang Opera was known and popularized across China, Wu had gone to Huayin City in Shanxi Province in search of old Chinese heritage practices in 2007. Two years later, she brought the band to Carnegie Hall in New York. Before performing at Shenzhen's music festival this year, they had just finished another 12-city tour in the United States.
Asked whether she made efforts in that regard, Wu said, "I don't want simply to be a pipa player. I'd rather be a musician who does something more meaningful," and added, "Now that I've gained some fame in the United States, the audience there expects me to introduce more Chinese folk art."
Meanwhile, she is deeply concerned about the passing down of Huayin Laoqiang Opera. Wu told Shenzhen Daily that "They [the band members] are the same group of people as they were in 2007; the only difference is that they are older than before. The eldest member is now 75 years old and the average age of all members is 55, so how to pass down the heritage is an imminent problem."
Luckily, things are changing for the better. According to Zhang Ximin — the band's lead singer, yueqin player and Laoqiang heir — more and more people from his hometown are learning the distinct opera style in his hometown.
"We have two sessions each week. The number of students is increasing and my grandson is also learning it," Zhang said. As an intangible cultural heritage item that was exclusively taught to males in the past, it is now open to female learners. Zhang remarked that his female students actually outnumber his male students now.
In 2006, the band participated in the drama "White Deer Plain," which was adapted from a novel of the same name by Chen Zhongshi, with famous actors Pu Cunxi, Guo Da and actress Song Dandan. Since then, they have been invited to perform in the United States, Germany and Australia.
Zhang attributes such success to the "reform" of their art form. Once they had become known by a wider audience base and after collaborating with singer Tan Weiwei in a rock 'n' roll song, an old friend of his questioned him, asking what he had done to Laoqiang opera. Zhang refuted him, saying that the old way of playing Laoqiang opera was too slow and spiritless, and it had to be changed to a more cheerful demeanor before younger generations would accept it.
"If Laoqiang opera were still performed the old way, it would never be accepted by audiences other than in Shaanxi Province," Zhang said.