Share

Print
A+
A-
The pond slider
Writer: Isaac Cohen | Editor: Liu Minxia | From: Shenzhen Daily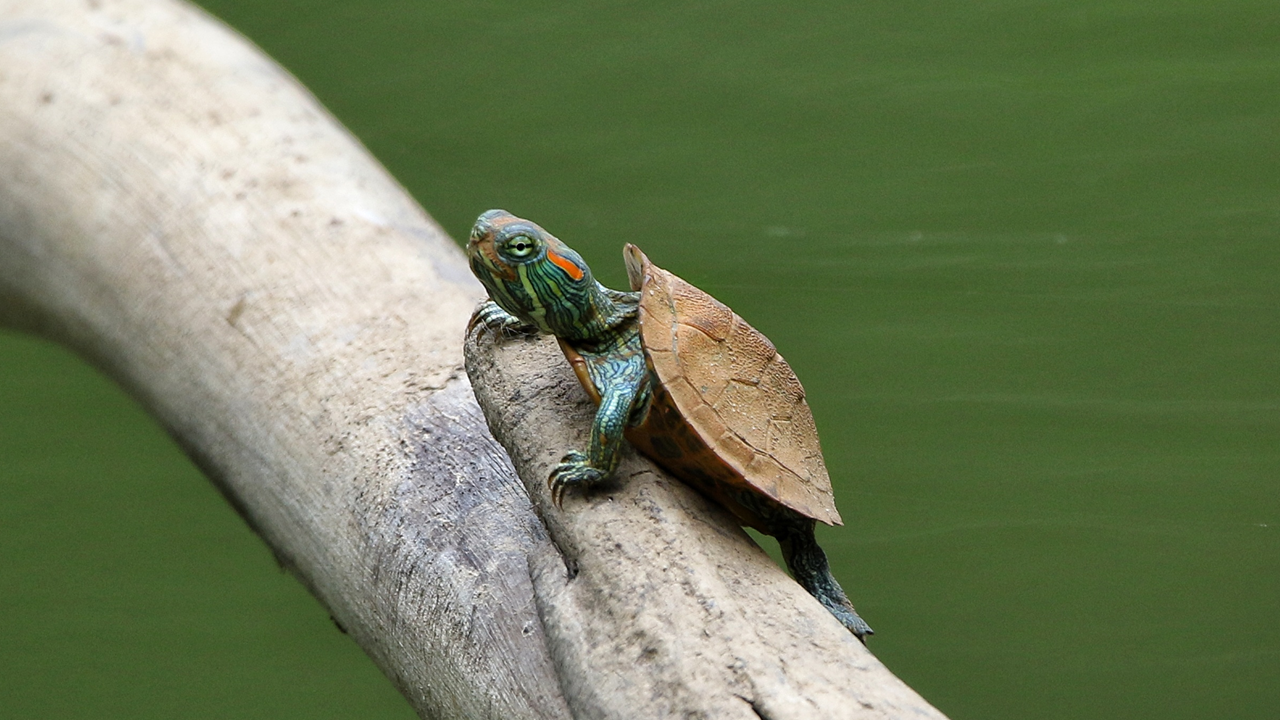 A pond slider is seen on a tree branch by a lake in Bijia Hill Park, Futian District, on May 1, 2021.

We all have seen pond turtles (Trachemys scripta) at least once in our lives, whether it is in a river, a lake or a pond, or, sadly, being sold on street markets as if they were toys or a silly souvenir.
这是一种几乎所有人都见过的陆龟:从河、湖到池塘里,甚至在路边小摊上,都能看到它们的身影,仿佛它们是玩具或纪念品。它们就是巴西彩龟。
These fabulous animals are characterized by a striking orange stain on the sides of its oval head, with a pointy snout. The carapace (upper shell) is greenish to brownish; it also bears a beautiful set of yellow lines with attractive patterns on it. Females are bigger than males and can grow up to 30 cm long, able to survive both in water and on land. A female slider can lay up to four clutches a year; each clutch can have up to 10 or more eggs at a time. When turtles hatch, they are very vulnerable due to their small size, restricted diet and softer carapaces; however, as an introduced species they have a better chance to survive.
巴西彩龟的头部呈卵形,吻部尖,头部两侧有鲜艳的橘色斑块,背甲绿中带棕,缀有显眼的黄色斑纹。本物种水陆两栖,雌性个体普遍大于雄性,体长可达30厘米,一年可以繁殖4次,每窝产卵可达10枚以上。孵卵期的巴西彩龟十分脆弱,会体重减轻、食量变小、龟甲厚度变薄,然而,作为外来物种,它们在本地生存的优势还是很明显的。
A pond slider rests on a lodge in a lake in Bijia Hill Park, Futian District, on Feb. 18, 2021.

Pond sliders are not supposed to be part of our landscape. This species, sought after for its particular beauty, is native to the United States and was later introduced to the entire world due to an endless circle of animal trafficking, which I wish will come to an end one day.
我们的城市并不是巴西彩龟应该出现的地方。它们原产于美国,因为外表靓丽而被作为宠物贩卖到全世界。我希望这种动物贸易有朝一日可以彻底消失。
As an introduced species, pond sliders are not creating a positive impact on our environment. They compete for resources with the local species and even displace them, feeding on almost everything they can find and taking advantage of not having natural predators here.
作为外来物种,巴西彩龟对本地的环境没有什么益处。它们没有天敌,为了存活会取食眼前的一切食物,因而会与本土物种争夺资源,甚至取而代之。
Juvenile pond sliders are basically carnivores, feeding on insects of all kinds, little fish and sometimes dead animals. In adulthood, with changes in their physiology, they become omnivores, also feeding on plants and therefore expand their chances of survival.
巴西彩龟的幼体是肉食性,取食各种昆虫及小鱼,有时也食腐。成年之后,它们会转为杂食性,除了动物也吃植物,从而降低生存的难度。
When we feel like doing the right thing and release an animal into wilderness, we are actually doing harm. We release an unprepared animal into an unprepared ecosystem. The best we can do to help these little fellas is to stop buying them as pets and to teach others not to do so — until one day, stores will have to give up selling them. It seems like an impossible task, but we can always afford dreaming about a better future.
我们必须明白,即便放生动物看起来是一种善举,但如果没有做好充分的准备,随意放生反而会对本地的生态系统造成危害。因此,我们应当从自己做起,不再购买巴西彩龟等外来物种当作宠物,同时也提醒身边的人不要这么做。一旦没有购买的需求,宠物店自然就会放弃出售它们——这条路看起来虽然道阻且长,但我们仍要心怀希望,努力去营造更美好的未来。