Komravision, a material scanner startup co-founded by Jordanian engineer, inventor, programmer and entrepreneur Abed Bukhari, received a 1-million-yuan (US$141,267) government grant in September from East China's Zhejiang Province for setting up a base in Hangzhou and gaining access to the Chinese market.
Bukhari, who has been in Shenzhen developing his scanner for four years, has also been granted a free office and accommodations in Hangzhou for three years to cooperate with Chinese business partners on rolling out his products in the market. Before that, KomraVision also held two rounds of fund raising from investors in Hong Kong.
The Komra scanner, which is still in the prototype stage, is a handheld hybrid spectrometer powered by artificial intelligence. It can be used to detect nutritional values and contamination in food and displays results instantly on a smart phone. According to Bukhari, in the future, the upgraded scanner will be used to analyze materials in many other things, like wood, water, soil, cosmetics and jewelry. He is also developing a software development kit so developers can make use of the sensor within the scanner.
After studying computer engineering, Bukhari worked in Germany and Estonia for more than 10 years, mainly in the optoelectronics field. He visited Shenzhen four years ago on a business trip and planned to spend only two weeks here to see what Shenzhen was like, because "every electronic or computer engineer in the world knows Shenzhen," he said.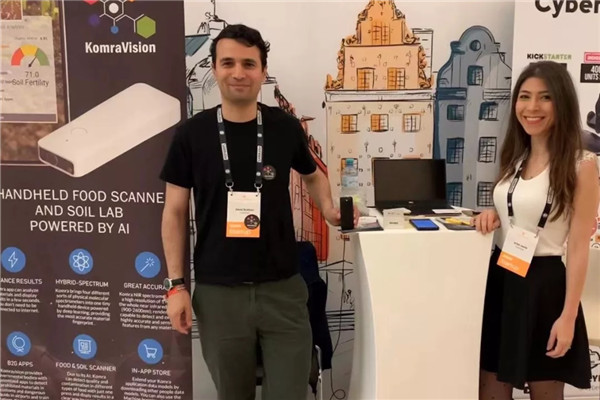 After deciding to stay in Shenzhen, Bukhari based his company inside Chaihuo x.factory, Shenzhen's leading maker hub in Nanshan District, where he uses equipment and tools, meets professionals and becomes involved in the maker community.
"One day in Shenzhen is like two weeks in Germany. Here you can order everything quickly, such as technical components and hardware, at low prices. Everything here is connected in one ecosystem and your company can grow very fast. But in Europe, you need to order components from different countries and have to spend much more time and money on research and development," he said.
Being both an engineer and entrepreneur, Bukhari works long hours in his lab and office every day, including weekends and holidays. He enjoys reading patent files online to gain diverse knowledge from different fields and, as his profile on LinkedIn reads, he aims to "bring science fiction to the real world."