HE cheers, and continues drawing with great passion for a devoted fan who came from Beijing to the 11th Shenzhen Arts and Crafts Fair last week, after just finishing a gold-powder painting depicting Zhong Nanshan, an academician of the Chinese Academy of Engineering. The fair provided him a 90-minute-on-stage opportunity to show his unique painting methods to the audience.
Huang Fengrong, a pioneer painting artist from southeast Fujian Province, stepped onto his painting path at an early age, and began trying out innovative ways of painting around 10 years ago.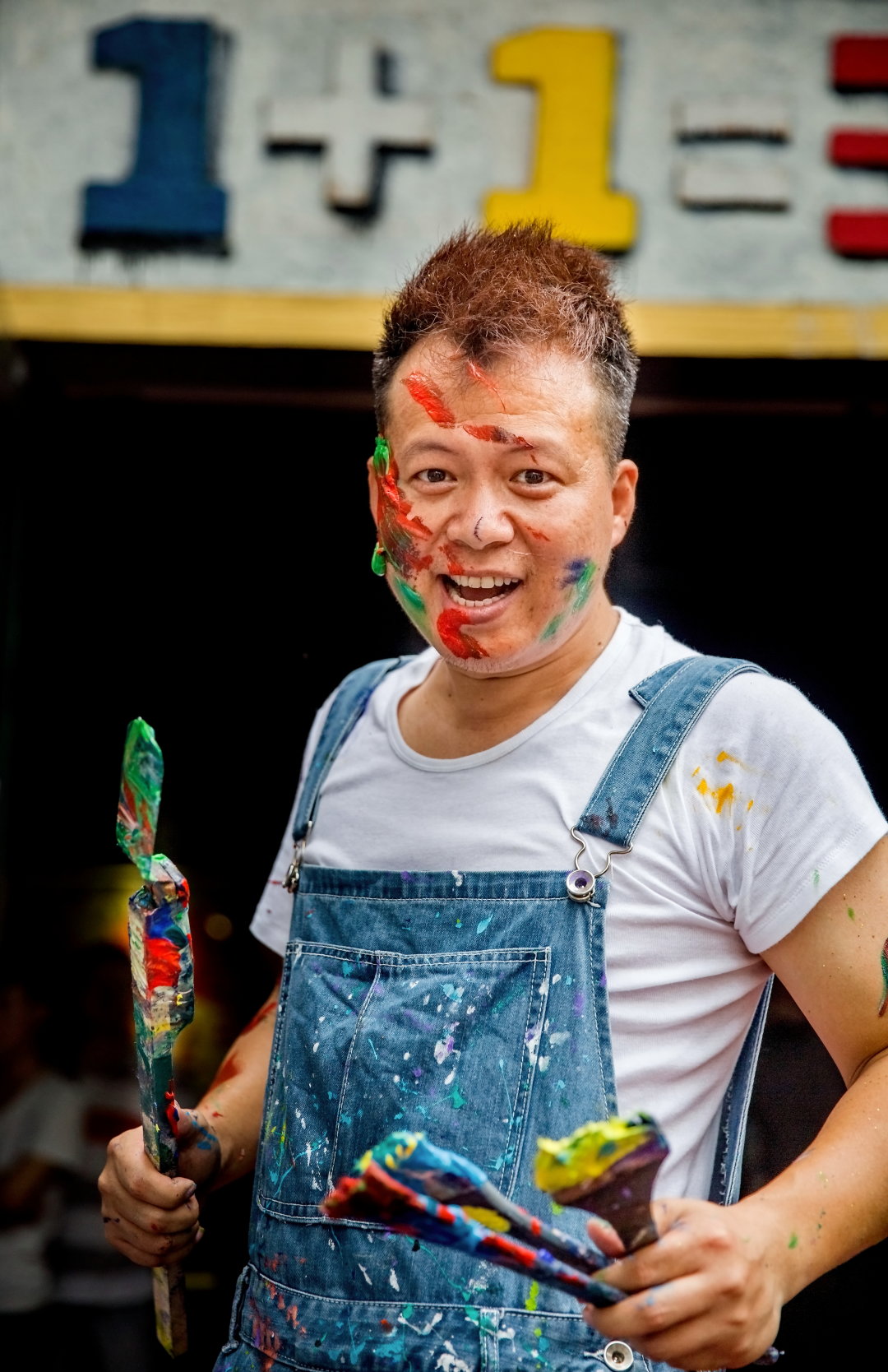 Huang Fengrong
He invented a new art style called performing painting ("演画"), which combines painting and performance and lets the drawing process becomes both artsy and humorous. To be specific, Huang uses exaggerated body language when painting, sometimes dances with music.
"I loved painting as well as imitating actors in movies when I was young, but I have never thought until now that I could have these two elements join together. In 2010, it was the first time that I showed this new form of art on TV. At the Dafen Oil Painting Village where I have a studio, I performed drawing in a gala, and I sent the performing video to the program 'I Want to Perform in China's New Year Gala' hosted by CCTV. It became famous after I drew a painting for celebrated compere Dong Qing."
Huang said that since then, he started to create more styles of drawing, including reversed drawing, gold-powder drawing, feet-treading drawing, paste-up drawing, double-shadow drawing on glasses as well as others.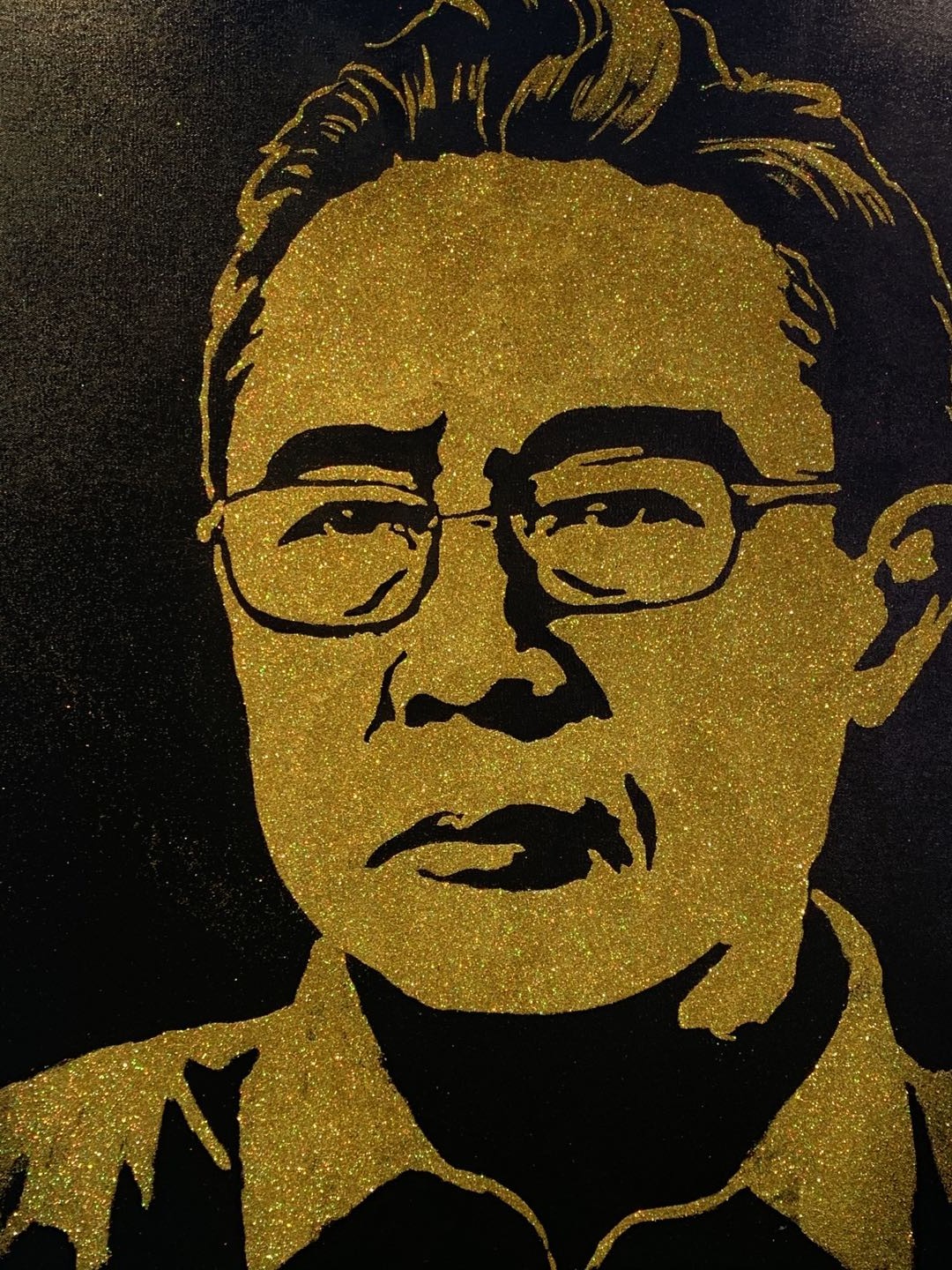 A gold-powder painting by Huang. Lin Songtao
"Inheritance is advocated for China's art, but I focus more on innovation and I'm enjoying it," Huang said.
At first, many people including art industry insiders were suspicious about Huang's new steps, but he found some foreigners like the style. "To insist on creating new things is not easy, and it can take a long time to attract a large audience. To keep a balance between earning money and pleasing the audience is also tough. Thus I think that art as a job is lonesome. All these test one's commitment."
Huang's reputation stalled until he performed on "China's Got Talent" in 2014. Concurrently, his special art forms caught attention from abroad. "There's occasionality in necessity. Some foreign friends introduced my works to others after visiting my studio. A French friend invited me to draw for famed French actress Sophie Marceau, and some other French friends recommended that I hold an exhibition at the Palais de Versailles in Paris. I took the chance and the exhibits were well received, thus providing further opportunities for me."
Huang poses a photo with his French friends and his paste-up painting "La Liberté guidant le peuple."
So far, Huang has been invited to draw paintings for 17 national leaders when participating in some State visits.
In 2017, Huang launched two projects named "Creating the World's 100 Famous Paintings" and "The Impression China 56." The first project united 100 entrepreneurs to invest in Huang and his team's re-creation of the world's famous painting using the paste-up technique, and also on derivative products such as tea.
For "The Impression China 56," Huang and his team traveled through China and experienced various nationalities' lives, and sought inspiration to create a memorial painting for each nationality on site, with themes in portraits and landscapes. At the same time, the team shot a documentary. "So far we've achieved the goal of visiting 22 minority nationalities. But the shooting had to be suspended due to the pandemic. However, we'll resume shooting next year," he said.
Huang poses a photo with women from the Bai nationality.
As an artist in residence at the Chinese University of Hong Kong (Shenzhen), Huang has taken part in activities like making paste-up paintings with students, staging solo painting performances, giving lectures and others.
"In the future, I want to play a more crucial part in society, not only for the art industry, but for all people who love art. I initiated a 'Stars of Performing Painting' competition recently, which is an event of 2020 Dafen International Oil Painting Biennale, and it aims to cultivate children to study this form of art," Huang said.