At the Shenzhen Global Innovation Forum of Talents held Tuesday to mark the 6th Shenzhen Talent Day, two young local entrepreneurs shared their experiences and ideas on innovation and entrepreneurship.
Sun Lei, chief designer of FIYTA Precision Technology Co. Ltd. and who has worked in FIYTA for 30 years, said that Shenzhen added wings for FIYTA, which in turn offered him the space to show his talent.
Sun found it hard to find a job after graduating from a college in North China in 1992. He came to Shenzhen to take a chance.
Sun Lei speaks at the Shenzhen Global Innovation Forum of Talents on Tuesday. Shenzhen Special Zone Daily

"Shenzhen is a city full of vitality and is known for its watches and clocks. Over the decades, FIYTA grew with Shenzhen and created many records in China's watchmaking history," Sun said.
In 2001, FIYTA watches were designated as watches specially for astronauts after blind tests. "We made a lot of innovative advances on watches and solved many tech problems like ultra-low temperatures in space, strong magnetic fields and high radiation, plus problems relating to space flight," Sun said while talking about the design of China Aerospace Watch.
Aside from technological innovation, the watchmaker also presented their aesthetics by applying cloisonne, embroidery, hand-painting, miniature sculptures and other Chinese traditional skills on their watches.
"Shenzhen is a city of design and a hub for creativity. It offers platforms for designers to have broader exchanges, a good business environment and equal opportunities that inspire young designers to start businesses and land jobs," Sun said.
Wang Yongkun, 31, founder and CEO of Standard Robots (Shenzhen) Co. Ltd., has been running his own business for seven years.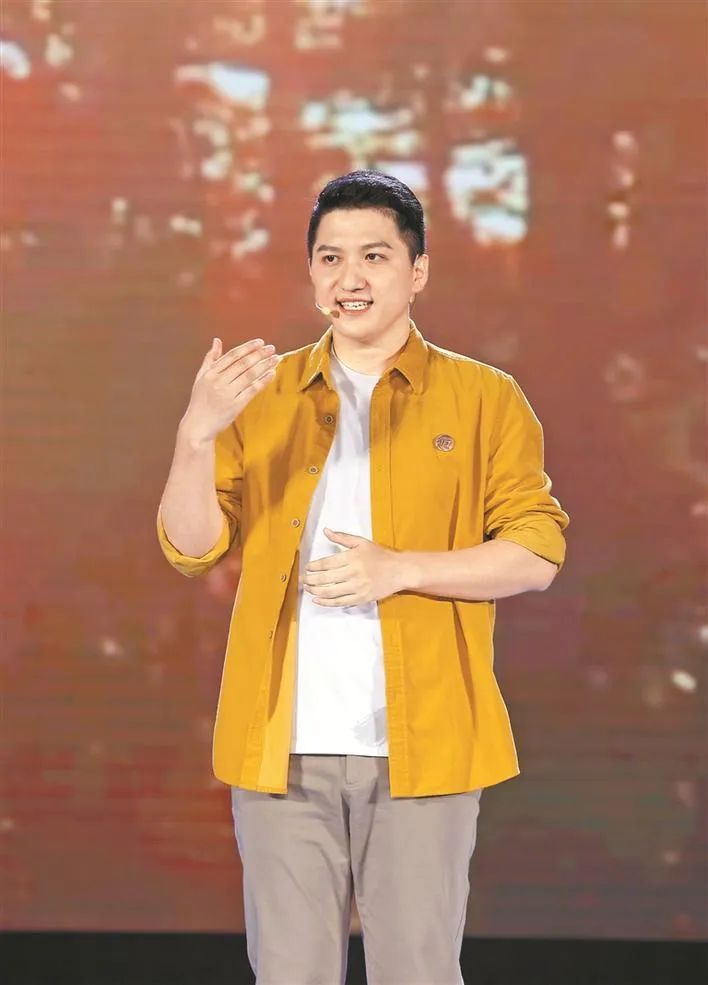 Wang Yongkun shares his entrepreneurship story at the forum Tuesday.

Wang was inspired to start his own business at a robotic competition in 2013. In the competition, Wang met Li Zexiang, who is now a professor of electronic and computer engineering at the Hong Kong University of Science and Technology and founder of Shenzhen InnoX Academy.
While listening to Li's description, Wang imagined a scenario where robotics and highly intelligent equipment would be widely used in different industrial sectors. "At that moment, I was motivated and felt how cool it would be to grasp robotic technologies to compete with other countries," Wang said.
On Feb. 12, 2016, Wang and his four friends came to Shenzhen to realize their dreams.
"We chose Shenzhen because we discovered that the spare parts and circuit boards we sourced online came from here. It is a place close to the upstream supply chain," Wang said.
In the early stage, Wang experienced ups and downs such as cash flow strains and office relocations.
At the forum, Wang recalled an unforgettable moment. He received a call from a core supplier demanding for a meeting. He decided to meet after checking the debts he owed. During the meeting, the supplier didn't mention the debt. Instead, he encouraged Wang, offering him resources to get through his difficulties.
"In Shenzhen, the entrepreneurial spirit is everywhere. It is never embarrassing to talk about your dreams, as there are always people standing beside you, supporting and helping you. This might be Shenzhen's charm," he said.
When Wang named his company "Standard Robots," he hoped he could create a standard for the industry.